Friday, February 17th, 2017
County support group organized to assist families
By Sydney Albert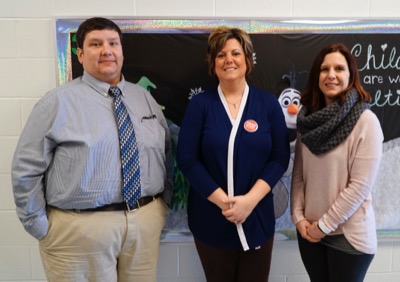 MONTEZUMA - A new support group will help local guardians deal with the special circumstances arising from caring for others' children.
Mercer County Job and Family Services, Foundations Behavioral Health and Head Start are teaming up to start the Kinship Provider Support Group. The first meeting is 6 p.m. March 7 in the Richardson-Bretz Memorial Building, 119 W. Fulton St., Celina.
The three agencies will provide meals, transportation and child care for those who need it, said Jason Cupp, social service administrator for MCJFS. He asked that people request transportation when they call and the organizers will help if possible.
While kinship providers are usually family members other than parents who care for the child, the term can also refer to godparents or family friends.
"Families have crises and tragedies," Mercer County Head Start Director Amy Esser said.
Someone might have to care for another's child for many reasons, including incarceration, physical or mental illness or addiction, she said.
"Sometimes (parents) just aren't physically, mentally or emotionally able to provide the care a child needs, and so they have somebody step in and do it for them."
Foundations clinical director Diane Gable said as far as she knows, this is the first support group of its kind in the community. Though the three sponsor agencies have each provided some services to families in kinship provider situations, they've never brought people together as a group like this.
"I know that when my social service staff are working with families, they do feel very alone," Esser said. "I think their perception is that no one else is experiencing this, and I think that's why the idea of a peer support group will be beneficial. When you get into statistics about support groups, or any kind of support, there's a higher percentage of success when you have peer support - someone else who has experienced it, who can empathize with you and let you know, 'You can do this. You can get through it.' "
Esser said kinship provider situations are more common than people think. She believes the area has had a significant increase - people just don't talk about it.
"It's their personal business, and they're not advertising it," she said.
Cupp said he believes part of the reason people don't talk about their situations is a sense of shame.
"At least with us, usually there is some preceding events, such as abuse or neglect, drug usage or incarceration. Very few times is it the tragic death of both parents," he said. "So there's the feeling that the family has failed and now they're not able to raise their children, and some of that unjust stigma is attached whether it's solely self inflicted or whether it's community inflicted. I think that's where that support group, knowing that there's others going through that, is very helpful."
"This is not just a poverty thing, an at-risk thing. You never know when a crisis can hit your family and every family looks different," Esser said, stressing that this situation affects people from every socioeconomic status.
Both Esser and Cupp agreed the perception that these family situations aren't common has led to a lack of available resources. Some financial assistance is available through Job and Family Services, but when a child unexpectedly comes into a home, the financial burden immediately placed upon the providers can be tremendous, Cupp said.
"Is there a good resource out there? I think there are some, but pulling it all together and making it available to the kinship providers is something I hope comes out of the support group," Cupp said.
Financial assistance will be discussed at the first meeting, but future topics will include behavioral management, dealing with stress, school issues, employment and how to navigate social systems.
"I think that peer support is just so tremendously important," Gable said. "Everyone is welcome, and we're here to provide support and encouragement more than anything."
People interested in attending should RSVP by March 2 by calling 419-268-0301.
Any businesses or individuals interested in sponsoring or donating to the program can call Mercer County Job and Family Services, Foundations Behavioral Health or Head Start.