Friday, February 17th, 2017
Outright repeat complete
Wildcats beat Indians to finish off second straight 9-0 MAC season
By Colin Foster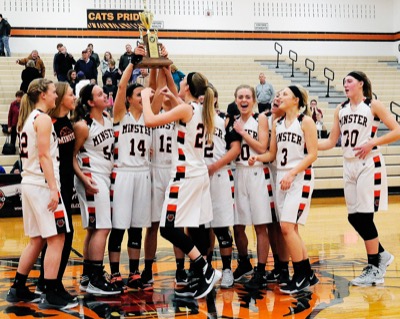 MINSTER - Minster already owned a piece of the Midwest Athletic Conference championship entering Thursday's game with Fort Recovery.
But don't think for a second the Wildcats were content with just a piece.
They wanted the whole thing.
"In the locker room before the game, we were talking and we said that (an outright title) was always our No. 1 goal for this year, so we weren't going to share it. We don't like to share," Minster center Courtney Prenger said.
Minster's outright repeat is now complete.
Prenger had nine points, six blocks and two steals, and Minster went on a 23-3 run to end the first half before having to withstand a late Indian charge to emerge with a 48-42 victory on Senior Night at Wildcat Gymnasium.
The Wildcats (20-2, 9-0 MAC) is the first team to post back-to-back unbeaten runs through league since Coldwater posted three straight unblemished conference campaigns from 1992-93 to 1994-95.
"This group of kids has great chemistry with Ali Borgerding, Hayley Baumer, Lindsay Roetgerman, Savanah Luthman and Rosie Westerbeck," Minster coach Mike Wiss said. "You're as good as your seniors. When the seniors are as quality and as athletic as this group, you always got a chance."
The lead changed hands three times in the first four minutes of the game, but Jocelyn Kaiser scored five points in a brief stretch to send the Indians ahead 14-10 by the end of the quarter.
Fort Recovery extended the lead to 16-10 and held Minster scoreless for the opening three minutes of the second quarter. The lead was gone in the blink of an eye.
Over the final five minutes of the quarter, Prenger had seven points, three blocks and two steals and the Wildcats forced seven turnovers during a 23-3 run.
"I think Courtney Prenger is the best player in the league," Fort Recovery coach Brian Patch said. "She's an absolute stud. I'd love to have her on my team. She's a difference-maker."
Hayley Baumer tallied all eight of her points in the half for the Wildcats and Rosie Westerbeck had all seven of hers, including a three-pointer at the buzzer that sent them into the locker room in front 33-19.
"In the first quarter, our kids stuck to the script," Patch said. "In the second quarter, we didn't. That's what we were upset with ... they basically voided out the game plan and started doing their own thing. They're too good to go and do your own thing against. They were able to go on a run and unfortunately we weren't able to stop the bleeding."
Behind a long-range assault from Grace Thien and pressure defense, the Indians found their way back in the second half.
Thien - who finished with six treys - scored 14 of her game-high 22 points in the second half and Fort Recovery made it a five-point game with three minutes left.
"She's been a go-to player for us because she can make shots," Patch said. "She moved well off the ball tonight. She just has that no-conscious mentality. Her teammates got her open and got her the ball. She went out and made plays."
Fort Recovery outscored Minster 9-5 in the third and entered the fourth trailing 38-28. Kendra Thien hit a three-pointer to push Minster's lead to 41-28 just 30 seconds into the fourth. Neither team scored over the next three minutes. Fort Recovery eventually ramped up its pressure, created five turnovers and made its move.
Grace Thien's three-pointer with 3:36 to play finished off a 6-0 run to make the score 41-34. She added her sixth trey later, but the Indians missed each opportunity they had to make it a one-possession game.
Alli Fischer helped Minster close it out by hitting a key three-pointer and going 4-for-4 at the free throw line in the final minute.
"It was big for Alli Fischer to hit those free throws and the three-pointer from the dead corner in the fourth quarter," Wiss said. "She had seven of our 10."
Minster's Taylor Kogge scored nine points to share team-high honors with Prenger. Will added nine points for Fort Recovery.
The win was the 25th straight in MAC competition for Minster and ninth straight over Fort Recovery. This was the eighth contest in the last nine years between the programs decided by single digits.
"We knew they were going to come out firing," Westerbeck said. "We don't like to share, so we wanted to come out just as hard. We started working at the end of last season. We were right back in the gym, right back in the weight room, and that was evident tonight. Our hard work paid off."
The Wildcats' regular-season run is complete. They meet the winner of Ada-Hardin Northern in Division IV sectional play on Feb. 25.
Fort Recovery (16-3, 6-3) host McComb in the regular season finale on Saturday and then meet Parkway in Division III sectional play next Wednesday.