Tuesday, February 21st, 2017
CLEAR CUT
State takes down trees for safety
By William Kincaid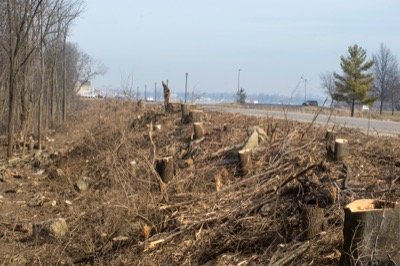 CELINA - Work to remove brush and trees from Grand Lake's earthen dams to prevent potentially dangerous conditions is mostly done, leaving behind a more barren landscape along the lake's east and west banks.
Grand Lake St. Marys State Park Manager David Faler this morning said all of the targeted trees and brush has been cleared on the east bank along state Route 364.
However, a dispute between state agencies and a property owner has left a small section of trees along West Bank Road - about 1,300 linear feet - still standing, as both parties claim ownership. Faler hopes for a quick resolution.
Faler said workers are trying to remove tree trunks and leave them in the area for the public to pick up as firewood. The tops of the felled trees are being collected and pushed into a pile. Once a permit is secured from the Ohio Environmental Protection Agency, officials plan to burn them.
Officials also plan to either flush cut tree stumps flat to the ground or grind them up, Faler said.
Asked if the agencies intend to do any landscape work to the areas where trees were removed, Faler said no plans are in place, but work could happen sometime this year.
Faler does not know how many trees were removed, but he noted that 800 were cleared just along the Grand Lake St. Marys Fish Hatchery on state Route 364.
Earlier this year, Southwest District Park Manager Brian Miller said the work is part of a statewide effort to protect the integrity of Ohio Department of Natural Resource's dams.
Miller said Gov. John Kasich's administration has made safety, including dam safety, a top priority. ODNR owns and maintains 177 dams, 56 of which are defined as potentially hazardous Class I dams, which could create deadly conditions if they fail.
Among the Class I dams are those abutting Grand Lake, Indian Lake and Lake Loramie, Miller said, noting ODNR officials reviewed the structures in 2016.
Expanding tree roots can erode the earthen dams' interiors while trees toppled by high winds can create a void in the dams, leading to foundational defects. Both conditions are detrimental to dam integrity, Miller said.
To prevent those dangers, ODNR officials decided to clear the trees and brush.
ODNR personnel using Ohio Department of Transportation equipment removed brush and small trees. That work, Faler said this morning, made it easier and safer for ODNR's Division of Forestry personnel to fell the larger trees.
The work proceeded much more swiftly than anticipated, Faler added.
On the east bank along state Route 364, workers cleared the embankment of trees to 10 feet behind the dam's toe. On the upstream side of the ditch, trees were cleared up to 60 feet from the roadway, according to Miller.
On the West Bank, workers cleared the embankment of trees to 10 feet behind the toe of the dam from Celina city limits to Coldwater Creek. On the upstream side of the ditch, trees will be cleared up to 60 feet of the roadway.
ODNR officials today are beginning similar work at Lake Loramie, Faler said.