Tuesday, February 21st, 2017
Panthers defeat Starfires
By Gary R. Rasberry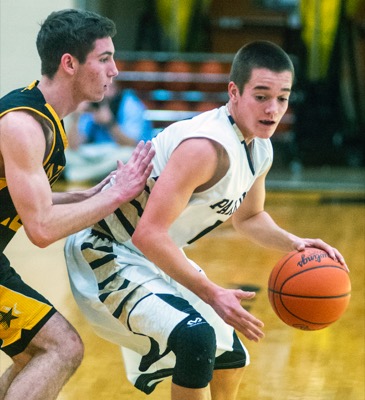 ROCKFORD - Parkway and South Adams went toe-to-toe for the entire 32 minutes on Monday night.
The Panthers took the lead for good with just under five minutes left in the game and held on to beat the Starfires 59-57 in an interstate battle at Panther Gymnasium.
"It was nice to see us come out of the game (with the win)," Parkway coach Doug Hughes said. "We found a way to get one tonight."
The teams were tied at 14-all after one quarter and Parkway was ahead 26-24 at the half.
The action picked up in the third quarter as Parkway's Mason Baxter began to match shots with South Adams' Marcus Teeter. Baxter scored 14 of the Panthers' 17 points in the third quarter and Teeter had 10 of the Starfires' 18 points as the teams traded the lead four times in the quarter. Logan Huff's free throw with 30.7 seconds left in the period allowed Parkway to take a 43-42 lead into the fourth quarter.
"When (Baxter) hit a couple (threes), that got (South Adams) out of the zone," Hughes said. "Those were big shots."
The Starfires (11-9) quickly regained the lead on a Jared Grabau baseline jumper less than a minute into the period. After a Parkway turnover, Teeter hit a pair of free throws to make the score 46-43.
Undeterred, Parkway (7-13) kept battling. Justin Barna's layup pared the deficit to 46-45 with six minutes to play. Just over a minute later, Huff put the Panthers back into the lead at 47-45. After the Starfires missed a shot on their next possession, Caleb Kinney scored to make it a three-point game. Another Starfire miss turned into two more points as Baxter hit a pair of free throws to make it 51-46 with 3:33 to play.
South Adams continued to battle back. A JD Groh basket and later free throws by Groh and Kody Fike got the Starfires to within three at 53-50 with 1:18 to play. Forced to foul, South Adams fouled Jack Wehe, who had sat for a large part of the quarter after having picked up his fourth foul. Wehe, who set the school record with 11 free throws in a game, made four straight to keep the Panthers in front by two possessions.
"That shows we're maturing as a team. We're getting better," Hughes said of Parkway's coming back. "We're handling those situations better than we were earlier in the year."
The Starfires managed to get the deficit to three, but the chance to tie the game came up short as a long outlet to Barna resulted in a basket with 10.6 seconds left to make it 59-54. The bucket proved big as Teeter hit a three-pointer with under five seconds left, but with South Adams out of timeouts, Parkway merely held the ball until the final horn.
"That was a game where, with a minute to go, could have went either way," Hughes said. "Hard-fought battle. They have a couple nice players."
Baxter led Parkway with 18 points. Barna added 11 points and Wehe was 8-of-8 from the foul line en route to a 10-point night.
"It makes it easy to be head coach when you know your point guard will shoot free throws like that," said Hughes of Wehe, who raised his free throw percentage to 82.1 percent for the season with his effort.
Teeter finished with 26 points. Grabau, who recorded his 1,000th career point during the game, finished with 12.
Parkway travels across the state line tonight to face the Jets of Adams Central. The Panthers wrap up the regular season on Friday at Minster.