Thursday, March 2nd, 2017
YMCA staff revives man after heart attack
By Tom Stankard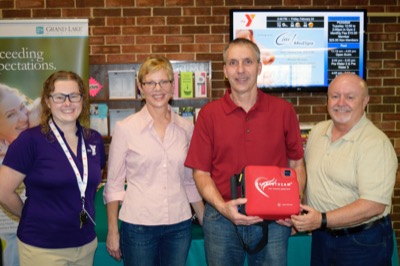 CELINA - While jogging at the Auglaize/Mercer Counties Family YMCA in Celina, Marvin Homan had his life changed forever.
Midway through his 18th lap around the track at 6:30 p.m. Jan. 30, Homan, 57, of St. Henry went into cardiac arrest. From that moment onward, he said he was in a daze.
His wife, Jean, said she was in yoga class with her daughter-in-law Melinda at the time.
"Evidently, I wasn't supposed to be there to see it," Jean Homan said.
Based on what she heard had happened, Jean Homan said the person behind her husband saw him collapse and applied CPR. After CPR failed to revive her husband, Jean Homan said staff members called for an emergency medical services squad and for someone to administer an Automated Electronic Defibrillator.
YMCA staff member Kate Scott was on her way to her car by this time, when she realized she had forgotten something and came back into the building, she said.
Scott rushed to the scene to administer the AED. As the YMCA CPR instructor, Scott said she has practiced for this situation "thousands of times." She succeeded in bringing Marvin Homan back to life.
"I was just going through the motions," she said.
The Celina EMS squad arrived shortly thereafter, Jean Homan said, and her husband was taken to Joint Township District Memorial Hospital in St. Marys.
On the way, her husband "flatlined again," she said. From Joint Township Hospital, he was transported to St. Rita's Medical Center in Lima, where he remained in the Intensive Care Unit for several days. There, he had a defibrillator implanted, Marvin Homan said. He said the doctors told them the incident could have been fatal.
YMCA CEO Allen Baskett said he's proud of how the staff handled the situation.
"They were tremendous and did exactly what they were trained to do," he said. "We have standard emergency procedures for almost any situations that we can think of."
Throughout the 17 years he's been working for the YMCA, Baskett said the AED had been used one other time at the South Branch facility in Minster. Unfortunately, he said that victim did not survive.
Before this life-changing event, Marvin Homan said he lived a very active lifestyle, enjoyed running and had no medical history.
"It puts it in perspective, that's for sure," he said. "I was thinking I was the healthiest guy in the world."
He said he has since been "recovering well" and doesn't plan to stop running.
"I've always run, ever since I was in high school," he said. "I didn't get to play too many sports because I was busy farming."
However, Homan said the last couple of weeks have been an emotional roller coaster.
"I feel happy because I'm alive," he said. "I just get tears in my eyes because all the people that helped. It was a really close call."
In light of what happened, Marvin Homan said he wishes to thank all those who helped save his life.
"I feel I had angels walking with me that evening. They were the walker bystanders, the YMCA staff and the Celina EMS member," he said. "These are my heroes. My life was in their hands and they brought me back to life. How can I ever repay that?"