Thursday, March 2nd, 2017
Westerbeck, Wiss honored
The Daily Standard's Girls Basketball Dream Team
By Colin Foster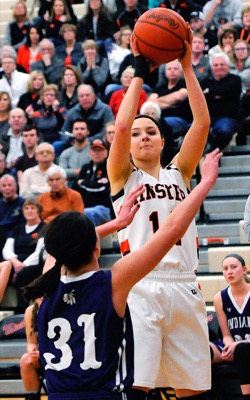 The winning has continued this season for the Minster girls basketball team with first-year varsity coach Mike Wiss on the sideline and senior Rosie Westerbeck leading the way on the court.
A little more than a week ago, Wiss and Westerbeck were named Midwest Athletic Conference Coach and Player of the Year.
The duo is also being honored with those same titles on The Daily Standard Dream Team after helping the Wildcats to a second straight outright league title.
Wiss' accolades in baseball are well documented. He has won two state baseball titles, compiled a record of 384-181 in 22 years and is a past Dream Team Baseball Coach of the Year. What some outsiders might not know is that since the 1997-98 season, Wiss had spent the winter months at the helm of the most dominant girls junior varsity basketball program in the area.
Wiss compiled a record of 334-47 with Minster - a run that included three undefeated and five one-loss seasons. The Wildcats' worst record in that span was 14-6 during the 2005-06 campaign.
And it's been a similar story on the varsity level for Wiss. Minster, once the top-ranked team in Division IV, finished the regular season with a record of 20-2.
"I'm a big believer that I was a part of something that Nann created, and I learned to love it," Wiss said. "When the girls got to the point of wondering if I was their coach and I said 'Yes,' they didn't want me to be somebody other than who I had been. They wanted me for me. That means I'm not recreating the game of basketball or running something that they don't understand. Do we do things a little differently? Yeah. But a lot of what we do is what I've always been a part of in my previous 19 years."
Wiss as head coach almost didn't happen.
The Minster alum originally accepted the position coach last spring. Weeks later, he decided it wasn't in his best interest, saying his roles as a family man, teacher and baseball coach were already too time-consuming. Soon after, the job was given to former Minster player exchange student Reetta Piipari, but she ultimately wasn't able to fulfill the role.
The coaching carousel ended with Wiss officially in control, and it's a decision that he doesn't regret.
A year after advancing to the Division IV regional semifinal under Nann Stechschulte, Wiss guided the Wildcats to a second straight outright MAC title with them becoming the first team to go unbeaten through conference play in consecutive seasons since Coldwater in the early 1990s.
"I think that it made a lot of the girls comfortable, that it's not a bunch of new drills, new terminology, new plays, etc," Wiss said. "We still do what Minster does. I'm pleased that they have taken to me, because in my heart, I've taken to them."
Westerbeck had already racked up the accolades before her senior season began. Twice she was selected to the All-MAC first team and once to the second team during her freshman season with New Bremen. She also has two Dream Team first team selections and a second team selection.
Her senior season has been the best yet as she averaged 13 points, 4.5 rebounds, 2.7 steals and 2.5 assists - making her a sure-fire Dream Team POY selection.
"I'm super honored. I can't say I expected any of this," Westerbeck said. "The people that make me look good are definitely my teammates. They're getting the passes. They're getting me the stuff. My teammates are the ones who are getting me this recognition. Half of the honor goes to them."
And Minster has been successful with her in the lineup, too. During her three years with the Wildcats, they've gone 59-13 and are now two wins away from capturing their second straight district title.
"I love the mentality at Minster," she said. "Everybody wants to go to practice. It's a privilege to go to practice. Even though you know the practice is hard, it's what it takes to win championships, so it's worth it."

Honorable Mention:
Celina Lauren Jackson
Coldwater Maura Hoying, Danielle Welsch
Fort Recovery Jocelyn Kaiser
Marion Local Sarah Fesenmyer, Macey Griesdorn
New Bremen Jane Homan
Parkway Sydney Crouch, Haley Hawk
St. Henry Danielle Lange, Allison Siefring
St. Marys Sydney Cisco, Quincy Rable