Wednesday, March 8th, 2017
Group gathers to discuss the painful topic of suicide
By Sydney Albert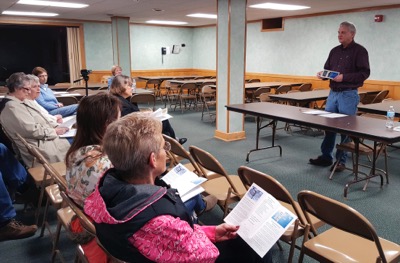 COLDWATER - Nobody wants to talk about suicide, but it's a serious local and national problem, a local expert said.
Brian Engle, executive director of Foundations Behavioral Health Services, spoke Tuesday at Holy Trinity Church about the causes of suicidal thoughts. He encouraged people to intervene if they see someone exhibiting the symptoms.
Some depression symptoms are well known, he said, listing loss of interest, frequent feelings of sadness, feelings of guilt or worthlessness and thoughts of death or suicide.
Other symptoms - frequent headaches or upset stomach, various aches and pains and lethargy or insomnia - are often mistaken for a physical ailment, he said. People with a mental illness could see a doctor who might find no physical problems, Engle said. However, doctors asking the right questions might be able to detect the depression.
If they don't, Foundations' assessment and crisis-intervention specialists can be vital, Engle said.
"We ask lots of questions, and we can pretty quickly come up with a diagnosis. Most of the people who come to Foundations come because of two things: depression and anxiety," Engle said. "We all get depressed. We all get sad. We all get stressed or anxious, but it doesn't affect how we function on a daily basis. The people that come to us, because of their depression or anxiety, are being affected in work, home, school, other settings in the community. That's why they come to us."
According to Engle, about 80-90 percent of people who struggle with depression or anxiety will be OK, if treated in a timely manner.
"The bad thing is that only 40-50 percent of people who have depression or anxiety ever get treatment," Engle said. "They're trying to live their lives as normally as they can with this serious illness."
Stigma is a big reason people don't seek treatment, even when they desperately need it, he said.
Such stigma was common in the area, said Marge Griesdorn, whose husband committed suicide. Years ago, Catholics who committed suicide couldn't receive a Catholic burial, and though that ban is now rare, she believes the mindset that someone committing suicide was lesser is still ingrained locally.
"Mental health disorders are still seen as a weakness, a moral failing, a sin in some cases. They're not seen as illnesses," Engle said.
People commonly say they had no idea that someone was considering suicide, but according to Engle, most people considering a suicide attempt talk about it at some point, though not always directly or obviously.
Engle said if people recognize a loved one's suicidal symptoms, they shouldn't be afraid to intervene. They should let the person know they care about him or her and that they want to help them get treatment. A common myth says that asking if someone is suicidal might plant the thought, leading that person to become suicidal. Engle says that's almost entirely wrong.
"You're not telling that person anything that they haven't already thought about," Engle said. "You're just bringing it out into the open."
Relatives and friends are instrumental in helping mentally ill people get the help they need, Engle said. Foundations officials have sought to make its mental health counseling services more accessible.
In the past, the biggest criticism of Foundations was that it took too long to schedule an initial counseling appointment, Engle said. However, a new program called Open Access allows people to walk in and be assessed that day.
Walk-ins are welcome Mondays and Thursdays from 1:30-3:30 p.m. and Tuesdays and Wednesdays from 9:30-10:30 a.m. New clients should bring an insurance card, proof of household income and photo I.D. for services. For additional information on Foundations' services, call 419-584-1000.
Attendees also could take handouts listing the symptoms of anxiety, depression and addiction, all of which can lead to self-harming behavior or suicide.
Griesdorn and Engle vouched for the Keeping Our Light program, a support group for suicide-loss survivors that meets the fourth Thursday of every month from 7-9 p.m. at various meeting places. For more information on the support group, contact Carol Griesdorn at 937-416-2011 or email CGriesie1@gmail.com.