Wednesday, March 8th, 2017
The wait is over
Indians land rematch with Perry
By Colin Foster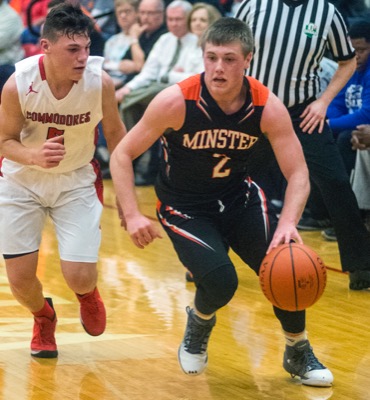 WAPAKONETA - Fort Recovery has waited a year for another shot at Perry.
The wait is over on Friday.
With a 48-34 victory over St. Henry in Tuesday's Division IV district semifinal, the Indians advanced to face the Commodores, who defeated Minster 62-50 in Tuesday's opening game at Wapakoneta. The teams will return to the same site for a 7 p.m. tip-off on Friday evening.
Perry enters the contest on a 17-game winning streak, the closest margin of victory during that span coming on Tuesday night. Fort Recovery has a six-game winning streak going and will try to avenge a 57-54 loss to Perry in last year's district semifinal.
"They're quick, athletic. They want to get to the basket and play inside-outside basketball, predicated off their penetration," Fort Recovery coach Chris Guggenbiller said. "We're going to have our hands full. It's a team that got us last year. It's a team that got us the first game of the summer. It's a team that's definitely been discussed in the locker room this year. If we want to get to where we want to get to, we have to go through them."

Fort Recovery 48, St. Henry 34
The game was within reach for St. Henry at halftime, despite a horrendous shooting effort in the first half (4-of-19).
But Fort Recovery quickly put it out of reach in the second half.
The Indians outscored the Redskins 20-7 in the third quarter and kept their distance the rest of the way as they advanced to the district title game for the first time since 2011-12 season.
"We changed up our pressure a little bit," Guggenbiller said. "I think that kind of rattled them a little bit. It just presented a little different look that we hadn't shown them all game. We were able to capitalize on those mistakes and those turnovers. We were able to convert on the offensive end."
Fort Recovery held St. Henry to 0-of-6 shooting in the first quarter while causing six turnovers en route to a 6-0 lead at the end of one.
Mitch Schwieterman's pair at the foul line finally put St. Henry on the scoreboard with 7:08 remaining in the second. Tyler Schlarman followed with St. Henry's first field goal two minutes later. Schlarman then answered with a mid-range jumper two minutes later. Schlarman and Schwieterman accounted for all of the Redskins' points in the first half.
Fort Recovery held a 14-11 lead after an not-so-pretty half of basketball. The Indians were 7-of-19 shooting and the Redskins 4-of-19.
The Indians went on the offensive in the third. Micaiah Cox scored six points, and Matt Bihn and Payton Jutte added five apiece to lead the game-altering 20-7 run that sent Fort Recovery ahead 34-18. St. Henry, which finished just 10-of-45 shooting, never got closer than 13 points in the final period.
"Fort Recovery deserves a ton of credit," St. Henry coach Eric Rosenbeck said. "Some of the credit also goes to us for not doing things as planned. Their size really affected us around the rim. Their pressure made us rush our shooting. Ultimately those are things that fundamental basketball teams can usually withstand. ... I guess there were some things I did not have our guys ready for tonight."
Schlarman scored a game-high 16 points on 5-of-10 shooting and totaled 10 rebounds for the Redskins. Schwieterman added nine for St. Henry, which finishes the season with a record of 15-10.
"I want to thank (seniors) Nate Lefeld, Mitch Schwieterman and Blake Hoyng for doing things the right way and for being great role models for our underclassmen and our program," Rosenbeck said.
Fort Recovery (17-7) was led by Cox (11 points, nine rebounds) and Bihn (11 points, eight rebounds). Caleb Martin finished with eight points and nine rebounds.
Pre-sale tickets for the game with Perry will be available on Wednesday and Thursday from 7:30 a.m.-4 p.m. in the high school office and on Friday from 7:30 a.m.-3 p.m. Tickets are $4 for students and $6 for adults.
Perry 62, Minster 50
The Wildcats had chances to change the momentum but could never capitalize in a season-ending loss to the Commodores.
Orion Monford scored 10 of his game-high 17 points in the fourth quarter to help Perry pull away from Minster. Kobe Glover scored 15 and Jakoby Lane-Harvey added 13 for last year's district champs.
The win improved the Commodores to 22-3 and they will shoot for their second district title in school history on Friday.
"Fort Recovery has some good length with Martin and Cox inside, but we really can't worry about our opponent," Perry coach Matt Tabler said. "We just have to continue to play the way we play. If the way we play isn't getting it done, then we'll have to change it from there."
Minster held a 5-0 lead two minutes into the game. Perry began to overwhelm Minster with its pressure and ended the quarter on a 15-4 run. The Wildcats tallied six turnovers in the quarter, and Logan Dray's three-pointer at the buzzer gave the Commodores a 15-9 lead.
An Isaac Schmiesing trey and Aaron Ernst bucket put Minster within one point early in the second quarter. The Commodore pressure increased against the Wildcats, and Perry finished the frame on an 11-6 run.
Minster had the deficit reduced to 26-24 at the beginning of the third but the third quarter ended much like the first two. The Commodores forced four more turnovers in a two-minute stretch and went on a 9-1 run that gave them a 35-25 advantage with four minutes left in the third.
Perry never let Minster any closer than seven points the rest of the way. Monford scored 10 of his 15 points in the fourth, and the Commodores hit 16-of-20 foul shots to close out the win.
"We had it down to two in the third quarter," Minster coach Michael McClurg said. "We had some shots, had some opportunities. We just didn't get it done. They extended it. I think we turned it over a few times. ... Their pressure is just relentless. Honestly I didn't think we played that poorly and we played our tails off, but that's a really good basketball team."
Schmiesing and Mike Ketner scored a team-high 12 points, and Ernst and Schulze added nine each for Minster, which ends with a 13-10 record in McClurg's first season.