Friday, March 10th, 2017
New Bremen girl finds her calling
Talent lands fourth-grader spot on TV
By Ed Gebert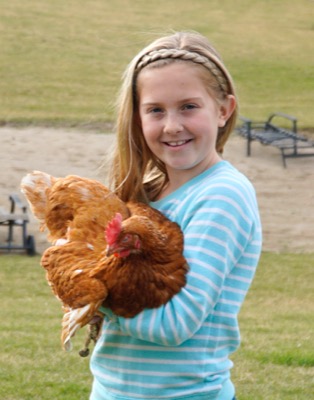 NEW BREMEN - Ten-year-old Lilli Wilker had an incredible experience last summer that will play out on televisions all over the country this weekend.
The New Bremen Elementary School fourth-grader is being featured in a segment of TV show "Little Big Shots." Wilker will display her unique talent of animal calling on the Steve Harvey-hosted program at 8 p.m. Sunday on NBC.
The show is built around Harvey and a wide array of talented children from all over the world with skills ranging from anatomy to music and several surprises. Wilker will display her skills in animal calling.
She has won the Auglaize County Fair Animal Calling competition four times and can imitate probably hundreds of animals. No one is really sure how many.
"I have so many, I just forget how many of them," Wilker admitted.
She and her parents, Amy and Tom, were flown to Los Angeles after a casting producer stumbled across a picture of her mentioning that she was a three-time animal-calling champion. That producer contacted the Auglaize County Chamber of Commerce and finally Lilli's 4-H leader in Wapakoneta.
Then Amy Wilker got a phone call.
"In the middle of last spring, we got this most random call from our 4-H adviser in Wapak," she said.
Another caller from California asked for a video of Lilli Wilker doing her award-winning animal calling. No video was available at that point.
The Wilkers went to NKTelco, the local cable television provider, and asked for help. Company general manager Preston Meyer sent L.J. Jellison to the Wilker farm near New Bremen with camera equipment.
"They came out to the house and spent a few hours videotaping Lilli interacting with animals, talking to them and making her animal sounds. Then we sent it in. Sometime later, they called us back," Amy Wilker said.
The producers offered to fly the 10-year-old to Hollywood to tape an appearance with Harvey. If all things went well, she'd appear on "Little Big Shots."
Lilli, Amy and Tom Wilker spent five days in Southern California, sightseeing and taping Lilli's appearance.
Lilli's stint went well.
"She did fabulous. We couldn't be more proud of her," her mother remarked.
Lilli Wilker had no issues when it came to sitting on a couch with Steve Harvey to talk about animal calling, her mother added.
"She's a very free-spirited little girl. There's no filter. So she had no problems. It just came naturally to her," she said.
Lilli Wilker has a whole host of memories of the trip that was a high point for her childhood.
"They treated me like a VIP," she said proudly.
The Wilkers didn't find out about the results until getting a simple email, notifying them their daughter would be on the show scheduled to air Sunday.
Lilli Wilker has been imitating animals since she was a very little girl. At the age of 3, her grandparents took her to a marine park in Florida.
"The first animal call I did was the dolphin," Lilli Wilker said. "I learned it because we go to Florida every year for vacation, and there's this place called Gulf World. It's a marine park where you can go interact with all these animals."
The next year, her family took her to Sea World and Lilli Wilker got to feed fish to the dolphins after the trainers had worked with them for a while.
While the dolphins were training, she started to imitate their sounds.
"I started squeaking like a dolphin. One dolphin came over and then all the dolphins in that pool left their trainers and came over to me. The trainers got out of the water and said, 'Who did that? That was good!' " she remembered.
Dolphins became her passion, and she won the animal-calling contest the first time with that call. By the next year, she had perfected the rooster. That remains her favorite call to this day.
Besides earning her a trip to Hollywood, the animal calls have come in handy for Lilli Wilker.
"One time a turkey at the fair got out of its cage. I was nearby, and I started making a turkey call and the turkey looked at me and came closer until somebody could grab it," she said. At home, the family has five horses, seven chickens, three rabbits and a dog.
While in California, the Wilkers visited Universal Studios, Santa Monica Pier and the Hollywood Walk of Fame and attended a world premiere of "The Secret Life of Pets" - a special treat for Lilli Wilker, the animal lover. She also got to experience California and its much-faster way of life than New Bremen's.
This Sunday night, a small part of Lilli's adventure will be broadcast to the world. The family is hosting a party to watch the event with friends, family members and fellow 4-H members. Tom and Amy have four other daughters: 15-year-old AllyJo, 13-year-old Grace, and 8-year-old twins Lexi and Libby.
Her mother is sure the whole family has enjoyed the adventure of the past year and the experiences.
"It's been a fun ride. And we don't know if the roller coaster ride is over yet," she said.