Friday, March 10th, 2017
Flyers hold on to beat Bearcats
By Gary R. Rasberry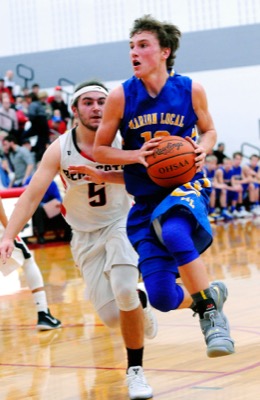 LIMA - Marion Local coach Kurt Goettemoeller knew Thursday's game with Spencerville would be a battle through all four quarters.
The Flyers jumped out to a double-digit lead by halftime, but had to fend off a Bearcat rally over the final two quarters to escape Lima Senior Gymnasium with a 44-42 win in the Division III district semifinals.
Marion (16-8) faces Wayne Trace on Saturday at 7 p.m. for a berth to the Bowling Green State University regional semifinals next week. The Raiders defeated Bluffton 46-32 in the nightcap.
For the first few minutes of the game, neither team was able to do much on offense. Marion turned over the ball on three of its first four possessions. Spencerville managed just three points during the stretch, but led 3-2 on a Dakota Prichard bucket. Tyler Prenger put the Flyers in front with a three-pointer with 5 1/2 minutes left in the first quarter and then Tyler Mescher added a layup to make it 7-3. Brady Croft cut it to 7-5 at the end of the quarter.
Mescher took control in the second quarter, scoring on three straight possessions to put the Flyers up 13-5, but Prichard, the Northwest Conference Player of the Year, stormed back with six straight points to make it 13-11. Nathan Bruns ended the Mescher-Prichard run with a three-pointer to put the lead back to five and then Mescher hit a pair of free throws to raise the lead to 18-11. Mescher, Bruns and Ryan Thobe added the final six points for Marion to put the Flyers up 24-13 at halftime.
"I think both teams were a little tight early in the game. We had a real good defensive gameplan," Goettemoeller said. "I was a little worried because we were really holding them down and not scoring on the other end to gap them. We finally got a little breathing room at halftime."
A Bruns bucket gave Marion its biggest lead at 26-13 a minute into the third quarter and Marion was up 31-20 with 3 1/2 minutes left in the third after a Bruns three-pointer, but then the Bearcats stormed back as Prichard and Brady Croft worked their team back into contention by the end of the quarter at 34-29.
"We tried to make an effort to pressure their guards more," Spencerville coach Kevin Sensabaugh said. "We did a little better job of that in the second half. We tried to take the ball to the paint and force them to defend us. We did a little better with that as well."
Gary Schrolucke started the third quarter with a three-pointer to get Spencerville to within a bucket at 34-32. After trading a few scoreless possessions, Matt Rethman hit a big trey to get the Flyers back up by five. Brady Croft and Prichard combined for the next four points to make it 37-36 with 3:07 left to play.
"We brought Matt up from the JV team late in February and he paid dividends right away when we beat Delphos (St. John's) that first night," Goettemoeller said. "He's a big part of what we're doing."
Bruns converted back-to-back baseline layups to help keep the Flyers up by three. Prichard added a free throw to cut it to 41-39 with two minutes left. Bruns added two free throws with 42.7 seconds left to give Marion a 43-39 lead, but after a Spencerville timeout, Prichard knocked down a step-back three-pointer with 20 seconds left to get the Bearcats to within one. Rethman was fouled on the inbounds and went to the line, missing the first but making the second to put the Flyers up by two. After both teams took timeouts with 6.1 seconds left, Prichard tried a three for the win, but the ball rimmed out and the Flyers rebounded to close out the game.
"You knew they were going to fight like crazy in the second half," Goettemoeller said. "I knew it was going to be a four-quarter war. They had the best player on the floor in Prichard and it was all we could do to try and limit what he could do."
"This was a close game and our last game was a close game (a 58-55 Spencerville win at the Hangar on Feb. 11). There's not much difference between the teams," Sensabaugh said. "It was just a tough one. Not our best game."
Mescher led the Flyers with 17 points and seven rebounds. Bruns finished with 16 points and six boards.
Prichard scored a game-high 22 points to go with 10 rebounds. Croft added 10 points and 10 boards.
TICKETS - Marion Local will be selling tickets at Chickasaw Quik Stop today through 11 a.m. Saturday morning. Tickets are $6 for adults and $4 for students. All tickets at the door are $6. Marion Local receives only a portion of the presale. Marion will be the home team and will park on the east side of the school off East North Street.