Tuesday, March 28th, 2017
Invisible disabilities still hurt
Lake Campus program seeks to improve awareness
By Sydney Albert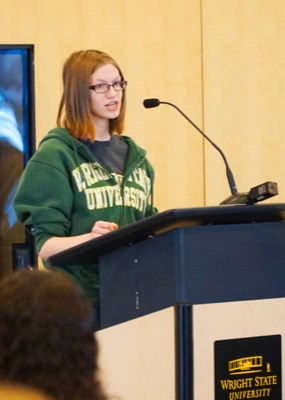 CELINA - Students and faculty gathered at Wright State University-Lake Campus on Monday to improve awareness of invisible disabilities and to share their experiences.
"Some people may think of disability as being in a wheelchair, something physical that you can see," said Deanna Springer of WSU-LC's office of disability and veterans services. "There are unique challenges faced by those who have 'invisible' conditions. Society's misconceptions can have consequences that make these challenges much harder.
"Think about the person who parked in the handicapped parking spot at the store and walks 'just fine,' " she continued. "This person may have a chronic condition that inhibits them from walking long distances."
According to Springer, 96 percent of people with chronic medical conditions in the U.S. show no outward signs, and 10 percent experience symptoms that are considered disabling.
Tom Webb, director of Wright State's Office of Disability Services in Dayton, agreed that when most people think of disabilities, they likely think of physical disabilities that are plainly visible or blindness or deafness.
"The reality is 82 percent of the students that (the office serves) on our main campus in Dayton have what are called hidden or invisible disabilities," he said. "What that means is if you run into somebody walking down the hall or on the sidewalk, you would not know that they had a disability."
According to the Invisible Disabilities Association, symptoms such as debilitating pain, fatigue, dizziness, cognitive dysfunctions, brain injuries, learning and mental health disorders and hearing and vision impairments, all count as invisible disabilities. In addition, a person who has a visible impairment or uses an assistive device such as a wheelchair, walker or cane can also have invisible disabilities.
At the Dayton campus, learning and psychological disabilities are the most common, Webb said.
"You'll see a lot of veterans that have PTSD, anxiety, other related disabilities and that's becoming more and more common," he said. "If we look at national data, the veterans that are coming back and going back into school, somewhere around 40 percent have some type of disability."
Students Reagann Hughes and Cari Johnson spoke on their academic experience with disabilities. Hughes was held back several times due to her dyslexia, and Johnson has struggled with written tests despite being otherwise knowledgeable about course material due to her comprehension disability.
"It's not due to a lack of intelligence or a desire to learn," Hughes explained. "We generally have a high IQ, but we don't test well. We do well with oral tests but not written."
Hughes recalled a teacher when she was in the first grade who told her that if she could read a second-grade level book, she could pass to the next grade, but if not, she had to redo her first-grade classes. When she couldn't do it, it made Hughes feel horrible.
"As a first-grader, how do you think that makes you feel? Not very great. You think you're not going to get anywhere in life," Hughes said.
In a higher-education setting, fear of what their peers and teachers will think of them can keep students from registering for accommodations. Webb said a common misconception is that people's private medical information will become publicized and this keeps them from coming forward. However, their information is protected under law.
Springer said the best thing people can do is be mindful that not everybody experiences things in the same way and realize that what someone may be suffering isn't always visible at a glance.