Tuesday, March 28th, 2017
Bulldogs post 8-2 win over Tribe
By Colin Foster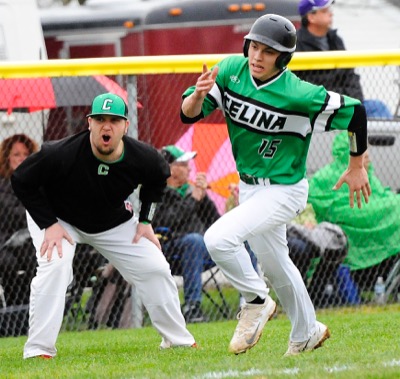 FORT RECOVERY - A different coach stood down the third baseline for Celina during Monday's game in Fort Recovery.
The end result was the same: another Bulldog victory.
Assistant coach Andy Waesch filled in for an ill head coach Andy Mikesell, and the Bulldogs had very few issues in an 8-2 victory over the Indians.
"To see the seniors step up today was huge," said Waesch after Celina improved to 3-0 on the season. "Coach is sick. They came out in terrible field conditions and played really well and hit the baseball."
Five Celina players (Tanner Freeman, Kole Murlin, Parker Maurer, Reid Harter and Nate Kirk) had two hits apiece in the victory. The Bulldogs finished 12-of-34 (.352) as a team with four doubles.
"This group of seniors and everybody else put the work in at the plate during the off-season, and it's showing," Waesch said. "We look like we're a little bit ahead because of the work we put in."
Right-handed pitchers Murlin and Shawn Rose effectively shut down the Indians. Murlin didn't allow a hit in four-plus innings and then Rose allowed just two hits over the final three innings.
"Kole is a battler," Waesch said. "He will always battle. That's what he does. We worked in the off-season quite a bit on his curveball. It's starting to look better. He threw a lot for strikes and had guys looking at some. He settled in really nice. ... Rose is Mr. Predictable. He comes in, shoots strikes, mixes it up. That's exactly what you want."
Fort Recovery starter Cade Wendel issued back-to-back walks to Shawn Rose and Isaiah Eichler to start the game. Seth Lonsway followed with a double, and Rose scooted home for the game's first run.
In the top of the third, Eichler advanced to second thanks to an outfield error and then moved to third on a wild pitch. Lonsway scored him with a sacrifice fly to deep right field. Murlin hit a one-out double and later crossed home on Jake Smalley's single to make it 3-0.
Then the Bulldogs broke open the game with a five-run fourth.
Eichler reached first on a fielder's choice and then Lonsway joined him on base after a walk. They moved into scoring position on a passed ball. Freeman and Murlin sent their teammates home with consecutive RBI infield singles. Maurer then hit a two-run double and Harter capped the five-run inning with an RBI single.
Murlin exited after facing two batters in the fifth. He walked Wendel and then Ben Homan reached on an error. Nick Thwaits sent the Indians' first run across with a sac fly off of Rose. Will Homan notched Fort Recovery's first hit of the game with a one-out single. Ethan Schoen later added a two-out RBI base hit.
But Rose shut down the Indians in order in their final two at bats.
"They had really good pitching," Fort Recovery coach Jerry Kaup said. "They got some really good swings on the ball. We also gave them a couple of walks and a couple of errors and they took advantage of them all. Cade ran out of gas. They got a couple more runs and we just got into too deep of hole.
"That's a pretty good ballclub. They hit well. They pitch well and they play pretty good defense."
Wendel suffered the loss for Fort Recovery. He lasted three-plus innings, giving up three runs (one earned), five hits and walking four. Reese Rogers allowed five earned runs in two innings and newcomer Micaiah Cox threw two scoreless innings in his first varsity pitching action.
Both Celina and Fort Recovery hit the road for games tonight. The Bulldogs travel to face Marion Local and the Indians head to Middle Point to meet Lincolnview.