Wednesday, April 19th, 2017
Speaker slams Kasich at county Democrats' dinner
By William Kincaid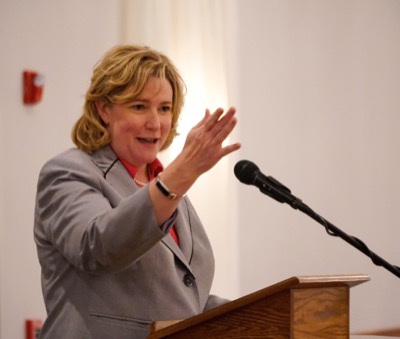 CELINA - Dayton Mayor Nan Whaley on Tuesday night came out swinging hard against Gov. John Kasich and his Republican colleagues in the General Assembly, sounding as if she's ready to enter the 2018 gubernatorial race.
Democrat Whaley, who will run unopposed for another term as Dayton's mayor and is reportedly considering a run for governor, was the keynote speaker at the Mercer County Democrats' spring dinner at Romer's Catering in Celina. She used the occasion to go right for the jugular, scorching Kasich and "his cronies" for their policies that she said have failed and put Ohio into a crisis.
Those Republican polices, Whaley argued in a fiery speech to a sympathetic audience, have cost Ohio jobs, pushed the tax burden onto the middle class and hindered local governments' ability to deliver critical services. New leadership is needed to move Ohio forward, she insisted.
"Many of our friends and neighbors are angry and pessimistic about the future of our state," she said. "Many of them are convinced that the system has failed them, our institutions have failed them, the politicians have failed them and our government has failed them."
Ohioans have been deceived and misled for many years, she said.
Whaley said when Kasich was running for president, he declared that Ohio was in the midst of an economic comeback, a rebirth that he called the Ohio Miracle.
"The miracle is nothing more than a mirage, or as one reporter called it, a figment of the governor's imagination," she said.
Whaley said the tax plan and the economic policies Republicans have pushed for more than a decade have failed miserably.
"The schemes that we were promised would spur economic growth have flopped," she said. "For more than four years Ohio has consistently lagged behind the rest of the nation in terms of job growth."
Last year was the worst year for job growth in Ohio since 2009, Whaley noted, adding that the state trails the rest of the nation in personal income growth and its median household income has declined steadily year after year.
Three of Ohio's biggest cities - Cleveland, Toledo and Cincinnati - are ranked among the most economically distressed in the nation, she said.
"The tax-shifting game has done nothing but saddle low- and middle-income families with a greater share of the tax burden," she said.
Even Kasich admits that Ohio has fallen into recession, forcing him to slash $800 million from the proposed biennial budget, Whaley said.
The "statehouse crowd" that has dominated for years has not been kind to local governments, Whaley said.
"Along with local schools, our cities and towns have taken the brunt of the state's failed policies," she said, pointing out Dayton alone is losing $6.5 million a year in local government funds.
Kasich and "his cronies" brag about cutting taxes and balancing the state budget, "but if you ask my colleagues or other local officials around the state, we will tell you it's easy to balance the budget when you use money promised to someone else," Whaley continued.
Whaley said the state's "funding grab" has had a crippling effect in communities, leading to job losses, less safe neighborhoods and the weakened delivery of vital services, some mandated by law.
To move Ohio forward, the partnership between state and local governments must be restored, she said.
Nothing demonstrates more clearly the despair gripping Ohio more dreadfully or the failed leadership at the state level than the ongoing heroin crisis, Whaley said, noting that Ohio leads the nation in drug overdoses.
Contrary to what Kasich said in his state of the state address, Ohio's efforts to fight the drug crisis are not paying off, Whaley argued.
"Paying off? Who is he kidding?" she asked, pointing to the 20,000 doses of opioid overdose-reversal drug Narcan administered last year in Ohio.
Whaley called for a statewide state of emergency and prioritization of drug prevention and treatment. She also said pharmaceutical companies should be held accountable and foot the bill for causing the epidemic.
"The big drug companies have systematically been getting people hooked on opiate pain medications for years," she said. "They have created a generation of addicts, leaving families and our communities caught in a downward spiral of death and despair."
But Whaley's speech wasn't all gloom and doom. Early on, she drew attention to positive developments in Dayton, including the Tuesday announcement that the city will continue to host the first four games of the NCAA men's basketball tournament through 2020.
"During my tenure as mayor we have called it the 'City of Learners,' " she said. "And we are proud to be one of the first cities in the Midwest to provide universal access to high-quality preschool to every 4-year-old in our city," she said to loud applause.
Whaley credits much of her success in life to her parents' influence.
"I know the lessons learned from my mom and dad have played a big role in defining who I am today," she said, adding they're a big reason why she's a Democrat.
Whaley said she grew up in a small town in central Indiana. Her mother was a local elected official, active in politics and a one-time candidate for state auditor. Her father was first an iron-worker, like his father, before going on to work at General Motors. He was a United Automobile Worker and volunteer on many Democratic campaigns, she said.
Whaley came to Ohio when she was 18 to study chemistry at the University of Dayton. She said she ended up falling in love with the people and city.
"I like to say UD brought me here, but it was the people I came to know and love that convinced me to make Ohio my home," she said.