Friday, April 21st, 2017
U.S. ed secretary visits area school
Despite clashes, DeVos accepts teachers union invite; federal budget calls for slashing education $9.2B
By Ed Gebert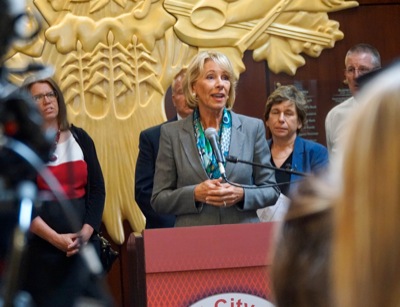 VAN WERT - U.S. Secretary of Education Betsy DeVos and American Federation of Teachers president Randi Weingarten on Thursday toured Van Wert City Schools buildings and met students as protesters aired their views outside.
DeVos and Weingarten have clashed over public school issues with Weingarten claiming that DeVos called public education a "dead end" and that she is taking a "meat cleaver to public education." Prior to becoming secretary, DeVos was well known as a proponent of private and charter schools.
Next year's federal budget proposal calls for slashing the education department budget by $9.2 billion. President Donald Trump's administration is proposing to allocate an additional $1.4 billion for school choice programs and to eliminate two programs, worth $3.6 billion, that provide funding for teacher preparation and after-school programs, saying they have not produced results.
DeVos visited Van Wert at the invitation of Weingarten and Van Wert Federation of Teachers President Jeff Hood.
On one side of the parking lot, protesters sat in lawn chairs and held signs promoting public schools with a few anti-Trump messages. On the other side of the building, the student parking lot held a row a vehicles displaying American flags and signs supporting the president.
When DeVos and Weingarten addressed the media at the end of the day, each thanked the other for the opportunity and especially thanked the district's administration and staff.
"What you've also shown us is how you can use investment in an effective and efficient way and how important investment in public schools are," Weingarten said.
"It's a wonderful thing that they have that opportunity that we should continue to offer," DeVos said. "The goal is for every child to be in an education environment that is best for them. And that is the overarching goal - to keep our eyes focused on what's right for each child."
The tour was designed to feature good things happening in public education, and Van Wert officials responded to the challenge.
"They just saw what we do every day," superintendent Ken Amstutz said after the tour. "They got to see from the little kids to the kids ready to go, and it was an exciting day from that standpoint. They saw what education is all about."
DeVos and Weingarten, along with state superintendent Paolo DeMaria were joined by a troop of administrators and observers to tour classrooms in the district's early childhood center, elementary, middle and high school buildings. The mood throughout was genial, but it was apparent that differences of opinion remained.
"It's no secret that we are fighting some of the budget cuts, and I look forward to having the opportunity to have those conversations," Weingarten said. "But you're seeing how efficiently and effectively money, like the after-school programs and that kind of funding is spent, and how that would be harmful to not only this community but also communities throughout if those budget cuts went into place."
DeVos noted that 20 percent of eligible student in the Van Wert district attend other schools.
"I would also say I think there are examples of rural areas that have taken advantage of the opportunity to offer a wider range of courses through perhaps a virtual learning environment and for meeting the needs of students they can't hire a specific teacher for," she said. "The reality is that parents and students only make choices if there are choices available to begin with, and secondly, they only make them if that's the right choice for them."
DeVos said the federal government could reduce the amount of required paperwork.
"We heard about a lot of time spent on paperwork and regulation and a lot of time having to fill out forms, and we know that that is an issue," she said. "The Ohio superintendent and I would share that view that we have to take some steps back."
DeVos said she could not analyze the impact of her visit right away, adding she had to "digest it all first."
"I think today was much more about the proactive and positive," Weingarten said. "It was what happens when schools work together when they engage in the strategies that work for kids, and I think that's what we saw today."

- The Associated Press contributed to this report.