Friday, April 21st, 2017
Panthers start fast, hold on to defeat Flyers 7-4
By Gary R. Rasberry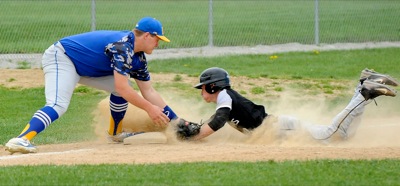 MARIA STEIN - Parkway got out to a quick start and then held on to beat Marion Local 7-4 in Midwest Athletic Conference baseball action on Thursday at the Airport in Maria Stein, snapping the Flyers' four-game winning streak.
The Panthers (7-5, 2-1 MAC) did the majority of their offensive work over the first five innings. After getting a run across in the top of the first, Parkway added two runs off Marion starter Jon Schmitz in the second as Tristan McKee had an RBI double and Shay Pond followed with an RBI single. The Panthers added a run in the fourth and two more in the fifth - on a two-run single by Trace Walls - to go up 6-0.
"That takes the pressure off," Parkway skipper Luke Clouse said of the early runs. "We're tinkering with the lineup that may get us jump-started. Last couple of days, Clayton (Agler) has led us off and got things going. That was nice to see."
"Parkway got off the bus ready to play," Marion coach Casey Witt said. "They jumped out to the early lead and put us on our heels. It took a couple of innings to really get back into a frame of mind."
Parkway starter Clayton Agler was sharp through the first five innings. After allowing a leadoff double to Matt Kahlig in the first, Agler issued just two walks through the fifth. Darrin Hays ended the hitless streak with a one-out single in the sixth, which led to the Flyers working their way back into the game.
After Hays' single, Duane Leugers and Cole Unrast drew consecutive walks to load the bases. Clouse called on Logan Huff to try and get out of the jam. Ryan Thobe greeted Huff with a two-run single that scored Hays and Leugers. After Nate Moeller singled to put runners on the corners, Derek Ruhenkamp grounded into a fielder's choice, scoring pinch-runner Nolan Habodasz to make it 6-3 before Trent Bohman flied to center to end the inning.
"I think he did (tire out)," Clouse said of Agler, who allowed two hits but walked five in 5 1/3 innings). "It was tough getting the strikes. I think Logan did all right."
After Parkway added a run in the top of the seventh, Huff issued back-to-back one-out walks to Kahlig and Hays. Clouse brought in southpaw Jack Wehe to close the door. Leugers grounded back to Wehe, who forced out Hays at second for the second out, but Unrast singled to score Kahlig. After hitting Thobe, Moeller grounded to Agler at shortstop, who then tagged the base for the force out to end the game.
"I went to Jack because I didn't want to mess with it," Clouse said. "I think all of them threw well, but I didn't want to mess around and put too many guys on base."
"We battled back, which I'm proud of," Witt said. "But (Parkway's) early lead made the difference.
"We've had good at-bats the past week-and-a-half or so. The only problem (today) was we waited until the sixth inning to really let things become contagious. By then, it was too late."
Alec Schoenleben went 3-for-3 with two runs and two RBIs to lead Parkway. Huff added two hits.
Kahlig's double was the only extra-base hit for the Flyers.
Marion Local returns to action tonight at Allen East. Parkway returns to action on Monday to host Bath.