Tuesday, April 25th, 2017
R.I.P. Remains of soldier formerly from area finally laid to rest
By Ed Gebert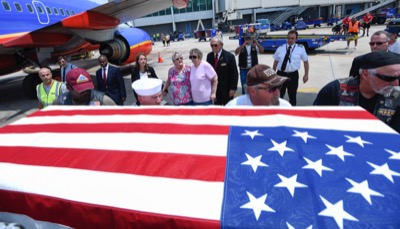 The remains of a New Bremen native have been identified 51 years after he died in the Vietnam War
The remains of U.S. Navy Corpsman Third Class Mark V. Dennis were flown from Offutt Air Force Base in Omaha, Nebraska, to Tampa International Airport in Florida on April 4. Dennis was 19 years old when the CH-46 helicopter carrying him was shot down near Dong Ha, South Vietnam, in 1966.
"We grew up in New Bremen," said Dennis' sister, Eileen Brady of Largo, Florida. "Mark was the youngest of four."
The family's father, Charles "Pete" Russell Dennis, worked for the railroad at depots in Celina and St. Marys in the 1930s and 1940s. The Dennises moved from New Bremen to St. Marys. Then in the early 1950s, when Mark Dennis was probably younger than 10 years old, the family moved to Miamisburg, where all four children graduated from high school.
"I taught him to walk," Brady said. "He was the best of the four of us. He really was. He was religious. He never did anything wrong. Never. The rest of us got in trouble every now and then, usually from not obeying, but Mark obeyed. He obeyed me. He obeyed Mom, so he was the best of the four of us."
Dennis' remains have been the source of many questions over the years. His body was first brought back to Miamisburg and buried in 1966. But a photo that appeared in Newsweek magazine in 1970 raised questions about the true identity of the body in the coffin.
"There was a picture of an American prisoner in a Vietnam prison, just sitting on a bunk. It looked exactly like Mark," Brady said.
That picture prompted Mark's brother, Jerry, to go to military officials. The remains were exhumed and tested. This was before DNA testing was available, so positive identification had to be made using fingerprints and personnel records, which were difficult to obtain because the helicopter had exploded and burned heavily.
For many years, family members said they continued to protest the identification and referred to the grave as containing the remains of an unknown soldier. The case was even featured on an edition of the TV series "Unsolved Mysteries" on Dec. 12, 1990. A number of forensic experts examined the remains over the years with no positive identification. Some scientists found that the remains could not be Dennis', and Jerry Dennis, a former arson investigator, led the charge.
Jerry Dennis traveled to many places, including Vietnam, to have his brother declared as "missing in action," rather than "killed in action." That status never changed for the military.
The Newsweek photo turned out to be that of U.S. Navy Lt. Paul E. Gilanti in the infamous Hanoi Hilton prison in North Vietnam in 1967. It had actually appeared that year in Life magazine in a pictorial of prisoners of war. Many other rumors about Dennis' whereabouts after the incident turned out to be unfounded.
Last year, DNA tests officially brought the nearly 50-year question to a close. Dennis' remains were flown to Florida, where the only two remaining members of his family, Brady, who turns 81 next month, and sister Anne Moline, met the flight. The remains were cremated and laid to rest with those of their parents, Charles and Vera Alice Sheley Dennis, near Tampa.
"We had been through two funerals and three exhumations until this (month)," Brady said. "It's taken 51 years, and I think it's brought the family closer together, if anything. But it's been a great deal of stress."