Tuesday, April 25th, 2017
Redskins win
St. Henry comes up clutch to defeat St. Marys 7-6
By Colin Foster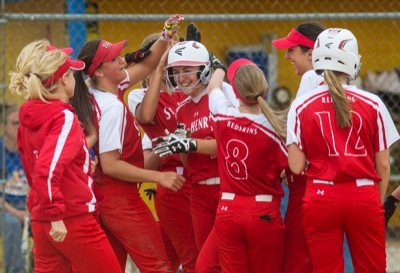 ST. MARYS - Both St. Henry and St. Marys had chances to win Monday's softball game at K.C. Geiger Park.
However, the Redskins made the most of their chance in money time.
A sacrifice fly by Kendra Rose in the top of the seventh scored Alexis Ontrop to put the Redskins ahead to stay as they defeated St. Marys 7-6.
"I give all the credit to the girls," St. Henry coach Kylie Huelsman said. "They were the ones who came up with big stops when we needed them. Games like this are fun. They're fun to watch. They're fun to be involved in, but they're also the most nerve-wracking because you never know who's going to get a big hit or who's going to go up on the scoreboard. Our girls did awesome. They worked their butts off to get this win."
Thirteen players had hits in the game, six players had multi-hit games, and runs were scored by at least one team in all but one inning.
The Roughriders were red-hot offensively through the first four innings but went scoreless over the final three and stranded eight runners on base in the loss.
"We left eight or nine on base," St. Marys coach Kendra Soloman said. "We didn't really do a good job of executing on our bunts tonight. We're back to what we did the first few games. We didn't hit the last three innings. We hit the ball almost through the order and then boom, we hit a wall again."
The Redskins trailed 6-4 after four innings and then began the comeback trail.
Ontrop hit a solo home run off Madi Howell to open the fifth inning. Howell was pulled in favor of Rylee Burd in the sixth. Burd gave up a leadoff single to Alyssa Heitkamp. Heitkamp was replaced on first by courtesy runner Alana Kunkler. Burd struck out the next two batters, but let Kunkler work her way to third on a passed ball and wild pitch. Kunkler scored the tying run on a St. Marys' fielding error.
In the seventh, Ontrop delivered her third hit of the game to open the inning. Julia Holdheide's sacrifice bunt moved Ontrop to third. A single by Olivia Winner sent Ontrop to third and then Rose came through with the game-winning sac fly.
"We had big plays when we needed them, whether they were sacrifice plays, a bunt or a fly ball," Huelsman said. "Julia Holdheide had a big sacrifice bunt in the end and then Kendra came through with a big fly ball. We did things that we needed to do this time, and that's something that's hard for us at time. We struggle with confidence a lot. It was really good to see them play well and do things that I know they can do."
Payton Grant opened up the Roughriders' final at bat with a single off Ontrop, but she was stranded at first. Ontrop struck out the next two batters and then forced a game-ending 4-3 putout to give St. Henry its fourth victory of the season.
"She's really good at working the corners and working the plate and she reads hitters really well," Huelsman said of Ontrop. "It was really good to see her finish strong."
The teams were locked at 1-apiece after one complete. Brooke Borgerding hit an RBI single for St. Henry and Howell tied the game with an RBI double in the bottom half.
Borgerding hit a two-out single in the third. An error by St. Marys extended the inning and then Ontrop scored Borgerding with a base hit.
The Roughriders took their first lead in the bottom of the third at 3-2 on a two-out RBI single by Grant that was followed by a run-scoring error. However, St. Marys could have inflicted more damage, had Kylie Lauth not been picked off at third after beginning the inning with a double.
"It could have been pretty big," Soloman said. "I mean, it was top of the order that was up. It was my leadoff that was picked off at third ... and I know she was mad about that. I know she knows better than that. I think sometimes you don't realize how big of game-changers things like that can be, those little things here and there."
Borgerding put St. Henry in front again an inning later with a two-run single.
St. Marys loaded the bases with one out in the fourth and went on to plate three runs in the inning to take a 6-4 lead. Burd scored on a wild pitch, Shimp, then at third, beat out a throw home on a grounder by Lexi Fowler, and Alyssa Alexander capped the inning with an RBI single.
Ontrop went 3-for-4 with a homer and a pair of RBIs for St. Henry. She threw a complete-game, giving up 11 hits while striking out five and walking one. Borgerding went 3-for-4 with three RBIs and Heather Heitkamp added two hits, including a double.
Lauth went 3-for-4 with a pair of doubles for St. Marys. Howell and Grant both had two-hit days.