Friday, May 5th, 2017
Students step up to task
By Sydney Albert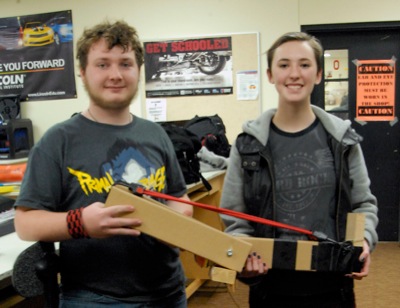 COLDWATER - The challenge was to come up with a prosthetic limb - an arm, a hand, a foot or a leg - using household items.
Participants had only one class period, about an hour, to brainstorm, draw plans and build their creation. In that hour, Coldwater High School sophomore Kaitlin Break and senior Dayn Kenny built a leg that could probably function as a makeshift prosthetic for someone in need.
Using cardboard pieces of shipping materials the team had lying around, wood blocks, carriage bolts, duct tape, bungee cords and zip ties, they built a creation that can hold a person's weight and bends at the knee. By wrapping bungee cords around the top part of the leg and her thigh, Break was able to demonstrate how the leg moved by taking a few steps.
"She took a video of herself walking down rough terrain, up stairs - really neat stuff," engineering teacher Jason Horstman said.
As part of the school district's emphasis on STEM skills, Horstman said his class challenges students to think outside the box, encourages problem-solving skills and better prepares students for life outside of school. He gives them the basics - shows them how the shop's power tools work, how to sketch and draft plans, how to make plans in 3-D computer programs and then gives them the resources.
"It's a lot like a work environment," Break said. "He says, 'Hey, this is what I want. Here's your next project,' and he doesn't tell us how to do it or what to do, he just says 'Get it done by this date.' "
Completing the project is up to the students. They go through the planning process, changing their designs as they see fit and coming up with their own solutions to problems they encounter. Break and Kenny ran through some design choices.
At first, the pair said, they had planned a more curved foot, but that changed because they wanted to focus on the function of the leg more than the foot. They ideally wanted to use Velcro to keep the leg attached, but they had to use what they had lying around. By placing the "knee cap" to the back of the leg rather than the front, they prevented the prosthetic from folding in half but still allowed the knee to bend.
"If we have it to the front, it's going to prevent us from bending (the leg) back," Break said, bending the knee as a demonstration.
Kenny enjoys the problem-solving aspect of the class best, while Break says she likes sketching out the plans on the computer. Though Break is the only girl in her engineering class, she doesn't feel out of place - she's among friends.
"We have similar interests and we hang out, anyway," she said.
Asked the reason why more girls weren't in the class, Break and Horstman shrugged.
"Who knows why? But it's definitely neat when you have someone like Kaitlin come through the program and just knock challenges out of the park," Horstman said.
It's more of a problem-solving class than a heavy hands-on class, and kids who might not feel confident with their hands-on abilities could still do well with the creative thinking, Horstman said.
Break agreed, adding that although students split into teams with their own projects, they all still worked together to help get things done.
"Everyone's like, 'Oh, you don't want to cut that on the saw! I'll cut it for you,' or 'Hey, you need help? I'll help you.' There's individual groups, but all the groups also work together to get everyone's project done with the limited time and resources," Break said.
Both Break and Kenny have been involved in other STEM projects - they're members of the school's robotics team, and they took part in the trebuchet competition at Wright State University's Lake Campus a few weeks ago. They plan to continue to use their STEM skills after high school, with Break saying she wants to go into chemical engineering and Kenny thinking about working at advanced maintenance and dabbling in robotics.