Friday, May 5th, 2017
Mikesell to have surgeries
Dayton standout to have procedure on hips, six-month recovery slated
By Colin Foster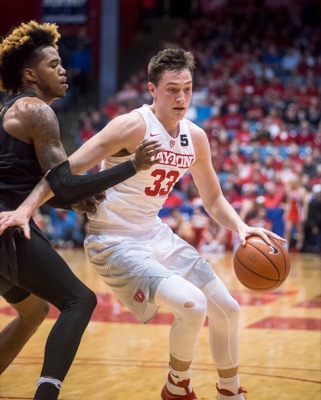 Ryan Mikesell has missed one game during his entire basketball career, when a sprained ankle sidelined him for a road game against Celina during his senior season with St. Henry.
But his latest injury might have him sidelined for a portion of his junior season with the University of Dayton men's team.
Mikesell has impingements in both hips and will have two surgeries over the next month. The expected recovery time is six months.
"I probably won't be ready to play at the beginning of the season," Mikesell said. "It's going to be tough those first couple games or so, watching my guys out there practicing, working their butts off while I can't do much for them except be a vocal leader on the sideline. It's going to be a process, but I'll be excited when I get back."
He noticed a sharp pain in his left hip last August prior to a trip with his teammates to Spain. The pain lingered during the trip but he played through it. The Flyers had a brief break period upon their return from Spain, and Mikesell's pain temporarily went away. However, when practices resumed, the problem returned.
So he received a cortisone shot in his left hip, which numbed the pain for a couple months before it returned again. Then Mikesell began to feel the pain in the other hip.
"I was kind of dealing with it all throughout the year," he said. "There were times when I came to practice and I was really hurting. I was just trying to make it through practice. Then there were days when I felt pretty good, but there were a lot of days when I just felt terrible. It was really terrible and I could barely move."
Hip impingement, also known as Femoroacetabular impingement (FAI), occurs when the femoral head rubs abnormally and does not permit a normal range of motion in the acetabular socket. The symptoms include the inability to flex the hip beyond a right angle, pain in the hip and groin area and stiffness in the thigh, hip and groin.
Mikesell was told by his surgeon that if he didn't get the bone-shaving procedure done, hip-replacement surgery may be required by the time he reaches his early 30s. He will make the trip to Columbus for his first surgery in mid-May and then will have a second surgery on the other hip in mid-June.
"Not only is this a basketball decision but this is also a life decision. I mean, I want to be able to play with my kids when I'm older," he said.
Mikesell will start the rehabilitation process weeks after surgery, riding the stationary bike and performing other light exercises. But he won't be able to start lifting weights again for 10-12 weeks and won't be able to perform basketball movements for at least five months, he said.
"I'm hoping to start workouts and stuff around five months, so when that sixth month hits, I'll be able to be back on the court," he said. "But it all depends on how my body reacts to the surgeries and how my body heels up. It's pretty much a waiting game."
Mikesell started 24 games as a sophomore and appeared in all 32, finishing the season with averages of 5.7 points per game and 3.9 rebounds.
"I think I started the first 20 games or something like that. Especially in the non-conference and early in the conference season, I was kind of catching fire, kind of catching my groove a little bit," he said. "Then my hips really started bothering me and I think that just really started to wear on me throughout the season. I couldn't perform out on the court like I wanted to, so I think this surgery will help me out for the future."