Wednesday, May 10th, 2017
Cardinals defeat Flyers 6-4
By Colin Foster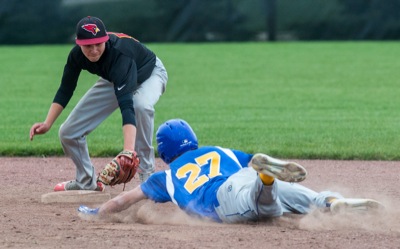 NEW BREMEN - New Bremen pitcher Ryan Bertke had a rough start, but finished strong against Marion Local.
Bertke rebounded after giving up two runs in the first inning to toss a complete-game, four-hitter in leading the seventh-seeded Cardinals to a 6-4 victory over the eighth-seeded Flyers in the opening round of the Division IV sectional round.
It was Bertke's second victory over the Flyers this season. He allowed four Marion Local hits in New Bremen's 5-4 MAC victory on April 13.
"He throws strikes, moves the ball around, keeps you off-balance and he battles," Marion Local coach Casey Witt said. "I thought we squared some balls up today, but we hit some balls right at them and they made terrific plays."
New Bremen moves on to face second-seeded Delphos St. John's on Thursday at 5 p.m. in Delphos.
Bertke carried a no-hitter into the fifth but was far from perfect, striking out eight while walking four batters, hitting three more and throwing three wild pitches. Backed by solid defense, Bertke was able to work out of trouble in the final four innings to limit Marion Local to just two additional runs.
The Flyers scored two runs in the first inning without a hit. Duane Leugers reached on an infield error, moved to second on a passed ball and then to third on Darrin Hays' sacrifice bunt. Bertke walked Cole Unrast, who went to second without a throew. Leugers and Unrast both scored on wild pitches for a 2-0 lead.
The Cardinals got a run back in the bottom of the first. Grant Selby was hit by Leugers' pitch on the first at bat and made it to third after a Flyer throwing error on Charlie Sailer's sacrifice bunt. Luke Vonderhaar's sacrifice fly to center scored Bertke.
Bertke and Leugers both rolled through the next two innings. Bertke had back-to-back 1-2-3 innings with three strikeouts. Leugers fanned four in a row in one stretch and received help from his defense when right-fielder Derek Ruhenkamp made a diving catch to keep New Bremen hitless.
But it went south for the Flyers in the fourth.
Leugers issued a walk to Vonderhaar to open the frame and Bertke followed with the first hit of the game. A bunt by Casey Parker advanced the runners into scoring position. Leugers walked Caleb Alig to load the bases and then walked Bryce Blickle to bring in the tying run. Leugers struck out Nolan Barhorst, but Tyler Overman beat out a bad throw on a ground ball to third to score Bertke. Alig came home from second when the throw went wild. Sailer later added a two-run single off reliever Jared Bergman.
"We got a couple big hits," New Bremen coach Chad Wells said. "The job that Caleb Alig did going from second to third on that ground ball, you know, he timed it just right. He did the best within the rules to get in the way and I think he helped aid in that ball that was a difficult one to catch at first. Tyler was hustling down the line and Caleb made a very headsy move by continuing to run.
"Charlie's two-out hit was key. He stroked a nice ball into right-center."
"When you don't throw strikes in baseball, you put yourself behind the eight-ball," Witt said. "In that inning, we had four walks alone. They scored five runs on two hits and that's just not good enough if you want to win a baseball game."
The Flyers plated one run in the fifth on a sac fly by Ryan Thobe. Ruhenkamp led off the sixth with a double and later scored on Ian Kramer's ground out.
Marion Local stranded two runners in scoring position in the fourth, left the bases loaded in the fifth and one at second in the sixth. Thobe led the seventh with a single but was thrown out by left fielder Blickle trying to stretch the hit into a double. Nate Moeller reached base with an infield single on the following at bat, but Bertke finished off the game with a fly out and strikeout.
"Tonight, we had a few errors," Wells said. "But Bryce's ball that he made a play on in left and threw to second to cut (Thobe) down on a double was big. Grant (Selby) made a couple nice plays at shortstop. He took away a couple hits. He almost had one in the last inning, but the (Nate) Moeller kid runs really well and beat out the throw. ... It was a good team win. There were a lot of people who contributed. We beat a good team today."
Leugers went 4 2/3 innings for Marion, striking out six and walking three in a losing effort. Leugers and Bergman combined on a three-hitter. Only one of the six runs scored on Marion was earned.
Bertke was the only player with two hits on either side, finishing 2-for-3 with a run scored.