Wednesday, May 10th, 2017
Luebke ends final comeback attempt
By Gary R. Rasberry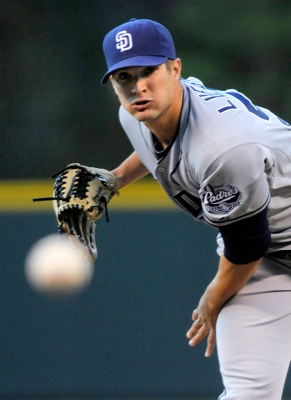 After coming back last season to pitch in Major League Baseball after having undergone two Tommy John surgeries that took him away from the game for several years, Cory Luebke has decided on a new focus in his life.
The Marion Local graduate announced his retirement this past weekend, only days after making two appearances with the Chicago White Sox's Triple-A affiliate in Charlotte, North Carolina.
While Luebke was solid in his two appearances, the long road to returning to the majors was what made him decided to end his 10-year professional career.
"It's something my wife and I have been discussing for a little bit," Luebke said. via telephone interview on Tuesday night. "Coming into spring training, I was thinking if I didn't make the club out of camp, I was going to consider (retiring) then. Then I had a pretty good camp and wanted to give starting a shot.
"I just needed to see how my stuff was going to be and how my arm was going to respond. I think I could have done it. It would have been a good battle to get up to 100-120 pitch mark and do that every fourth or fifth day. I think I could have been able to do it, but we just looked at all the time it would take as far as building up and proving my arm was healthy and durable again. The time was going to be tough."
Luebke, who missed most of 2012, all of 2013 and 2014 and most of 2015 in recovering from surgeries to repair his elbow, returned to the majors last season with Pittsburgh. Luebke struggled in just 8 1/3 innings, posting a 9.35 ERA before the Pirates released him mid-season. Luebke signed with the Miami Marlins and pitched in several minor league games before the end of the season.
"Talking to teams through the winter and even in spring training, the White Sox gave me an option (to leave) if I got an opportunity (to get a Major League contract), but everybody wanted to do the 45-day contracts and have the ability to send me up and down. That's what made it hard. I knew I had the ability to pitch up there (in the majors) again, but with my wife and son and moving up and down, I just really didn't enjoy that as much anymore."
Signed to a minor league deal with the White Sox in January, Luebke had a strong spring training, allowing just one run in 9 1/3 innings out of the bullpen, but was slated to start the season with Triple-A Charlotte. Luebke stayed in Arizona for extended spring training to build arm strength towards becoming a starting pitcher. The Knights activated Luebke on May 2 and he pitched a scoreless inning that evening. Then last Friday, Luebke gave up three runs in four innings as in his lone start.
Two days later, Luebke informed the White Sox he was retiring.
The offseason was extra hectic with Luebke's wife expecting their first child. The baby, a son, was born just before the start of spring training, forcing Luebke to drive 24 hours with his dad Jeff from Nashville to Arizona to make camp on time, with mother and child to follow later.
"The time was right to move on to the next chapter and spend time with them and make up for lost time with them and family and friends," Luebke said.
Luebke has no regrets about hanging up the spikes.
"I was talking with my brother a few weeks ago and he asked if I'd have any regrets," Luebke said. "I said, honestly, the only regret I would have if I tried to make it back as a starter in the next 2-3 years and it didn't happen, I'd miss my son growing up. No job is worth missing your kid grow up and spending that much time away from your wife."
Financially comfortable to spend time with his family, Luebke hinted at entering a field he is very familiar with as a future occupation.
"I had some talk with physical therapists I've become friends with over the times with as much time I spent in a clinic," Luebke said with a laugh. "If I had to guess, I'll take a year off, reflect a bit and make up for lost time. I'd consider going the physical therapy route as an assistant or something along that line. The amount I've learned about the body the last few years as far as mechanics. I've been fortunate to be around a lot of very smart people in that aspect. I just feel I'd put it to waste if I didn't go back and help other people deal with what I went through."