Tuesday, May 16th, 2017
Local resident earns national worker award
By Sydney Albert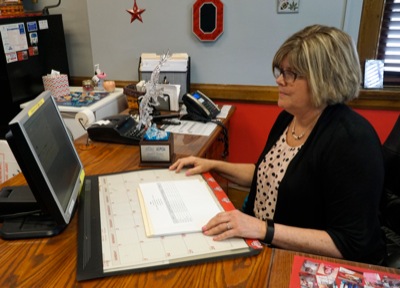 WAPAKONETA - Celina resident Jennifer Hurlburt was surprised when she learned she'd been nominated for a national award and even more surprised when she found out she'd won.
On May 5, she and about 90 other federal employees, including some from entities such as the FBI, gathered in Cleveland to be honored with the Federal Executive Board's Wings of Excellence Award.
"It's an honor, you know. I'm going on 29 years in the post office, so it's kind of nice to get recognition," Hurlburt said. "It seems like there's so much you never hear, you never get praised or anything, maybe not appreciated."
Hurlburt, 57, oversees 31 employees in her Wapakoneta office and is also responsible for several remotely managed offices and hub offices in Auglaize County. Lately, she's done a lot of work grooming and mentoring new employees as several longtime workers are preparing to retire.
The award didn't recognize just excellence during work hours, Hurlburt noted, though dedication to work helps.
"It has to do not only with your commitment, dedication, the things that you do for the Postal Service but, like, on-the-job- and off-the-job-type things."
Part of the reason she was nominated is her strong advocacy for breast cancer awareness. As a survivor of breast cancer, she's been greatly involved with the Auglaize County fundraising relays over the years.
"I work over there (in Auglaize County), I'm more involved with people over there, and my supervisor and myself both have been breast cancer survivors," Hurlburt explained.
The Wapakoneta post office formed two separate Relay for Life teams. With at least three employees including herself, who have struggled with cancer at one point or another, Hurlburt said the issue really hit home.
"So naturally my employees were very involved with that. They came out, families, friends. We had a team that went out and walked, raised money outside of the post office," she said.
They couldn't raise money at the post office during business hours, but they always did what they could to raise awareness. During breast cancer awareness weeks, employees promoted awareness by having literature and pamphlets available along with stamps and envelopes bearing the breast cancer ribbons.
She also takes part in Mercer County events when she can. Hurlburt had a granddaughter at Celina Middle School who invited her to the mini-relay for life the school hosted recently.
Something particularly powerful happened at that relay, she said. The middle school principal asked all students who have a family member who's had cancer to stand up. Hurlburt said very few students were left seated.
"My sister had breast cancer when she was at the age of 30 and then my dad, he had cancer also. I think it put it in perspective, because when you looked across, it's like, 'wow.' Everybody in some way has had a family member or somebody who either had cancer or lost to cancer."
Hurlburt said she was honored to have received the award, even to have been nominated at all, but humbly said she still wasn't sure the reason why she had won over all the other nominees across the country. Dedication and hard work, both at the post office and outside of it, just seem to come naturally to her, Hurlburt said.