Tuesday, May 16th, 2017
Bulldogs down Cavaliers 14-3
By Gary R. Rasberry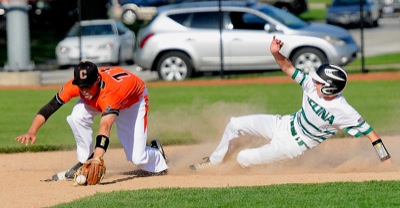 COLDWATER - With both teams needing a tune-up game before the district semifinals later this week, Coldwater hosted Celina on the Cavaliers' Senior Day at Veterans Field.
After the five Coldwater seniors were honored, it became a Bulldog kind of day as Celina improved to 18-6 with a 14-3 win over their Mercer County neighbors.
"That was kind of our objective," Celina coach Andy Mikesell said. "We didn't get all the rotations we wanted because some guys were sick or injured. It was good to see us hit and want to hit and be confident."
For Coldwater coach Brian Harlamert, the score and stats weren't as important as honoring the seniors and getting some work in.
"We wanted to play a game to get our guys out there and compete for two reasons: one was to keep playing after having the weekend off. Two was for our seniors (Dylan Thobe, Alex Klosterman, Dylan Brosher, Ryan Knapke and Tyler Hemmelgarn). This was their day."
After scoring one run in the top of the first, Celina put the game away with six runs in the third off Cavalier starter Dylan Brosher. Kole Murlin, Tanner Freeman and Parker Maurer had consecutive RBI singles to lead the Celina attack.
The Bulldogs added four more runs in the fourth off Cav reliever Brad Giere. Murlin added a two-run single and Freeman had another RBI single.
Nate Kirk started for Celina and pitched three innings of one-hit, two-walk baseball before handing the ball to Freeman, who allowed a run in the fourth when Nathan Grunden scored on a wild pitch. In the fifth, Coldwater avoided the run-rule thanks to pinch-hitters Cole Frilling, who singled, and Jake Wenning, who doubled in Frilling to cut the deficit margin to nine.
Celina added three runs in the top of the seventh as Bransen Miller tripled in Ethan Piper and Kirk. Shawn Rose brought in pinch-runner Alex Borger with a fly to center.
Rose, who relieved Freeman with one out in the fifth, allowed one last Cavalier run before closing out the game.
"Tanner hadn't pitched in a week-and-a-half and was able to get a couple innings," Mikesell said. "Shawn got some work to get everything ready for Thursday."
Murlin went 4-for-5 with three RBIs for Celina. Freeman had three hits and three RBIs and Rose and Isaiah Eichler each had two hits.
Grunden had two of the six Coldwater base hits. Wenning and Brosher each had a double.
Celina travels to Patrick Henry High School on Thursday for Division II district semifinal action against top-ranked Wapakoneta at 2 p.m. Coldwater is scheduled for another tune-up game today with Van Wert before traveling to Ed Sandy Field in Elida on Thursday for a 4 p.m. Division III district semifinal game against Lima Central Catholic.