Thursday, May 25th, 2017
Heavy rains flood area roads
Woman rescued from vehicle
By Tom Stankard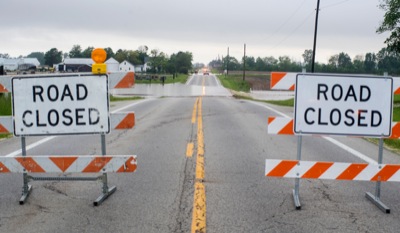 As much as 5 inches of rain accumulated in parts of Mercer County on Wednesday night and early this morning, causing one vehicle to be swept off the roadway.
The Mercer County Sheriff's Office advised motorists to use caution due to many high water areas. County Emergency Management Director Mike Robbins said the reports of high water mostly came from the Rockford area.
Auglaize County emergency management agency director Troy Anderson said his county received up to an inch or an inch and a half in some places but no flooding or damage was reported.
High water covered state Route 707 near Wabash Road. Mercer County Sheriff's Deputy Jerry Wolford told the newspaper that Sachi Yasui, St. Marys, 24, was traveling westbound at this location at 5:42 a.m. today in a 2013 Ford Festiva when she proceeded into the high water. Her vehicle reportedly was swept off the roadway and submerged in water that crept up to Yasui's knees. A boat was requested, but none was available.
The Chattanooga Fire Department responded to the scene. Personnel hooked Yasui's vehicle to a fire truck and pulled her car to safety. Yasui reportedly suffered no injures from the accident and emergency personnel left the scene at 5:57 a.m., Wolford said.
In another incident, Dylan A. Giere, 18, St. Henry, reportedly was traveling southbound on state Route 118 in Butler Township in a 2001 Volkswagen sedan at 7:42 p.m. Wednesday, when he reportedly lost control of his vehicle due to slippery road conditions. The sedan reportedly traveled off the right side of the roadway and struck a pole. Giere suffered no injuries, according to the Mercer County Sheriff's Office report.
Robbins at about 8 a.m. today reported high water still remained on state Route 707 between Erastus-Durbin and Burrville roads, causing the closure of the stretch of road.
Also near Rockford, the sheriff's department advised Tama Road between U.S. 127 and Stose Road was closed due to high water as of press time today.
Robbins cautioned motorists not to drive through high water because "you can't tell how deep the water is."
Mercer County Health Department Sanitarian Jason Menchhofer warned high waters may carry bacteria from one place to another. If people are exposed to high water, he advised they shower as soon as possible to prevent spreading possible diseases.
Flooding also affected other areas.
Mercer County Engineer's Office Operations Manager Brad Laffin said high water impacted the ongoing $2 million Mud Pike improvement project and could delay construction by one week.