Thursday, May 25th, 2017
Panthers fall short
Williamsburg hands Parkway 6-2 loss in regional semifinal
By Colin Foster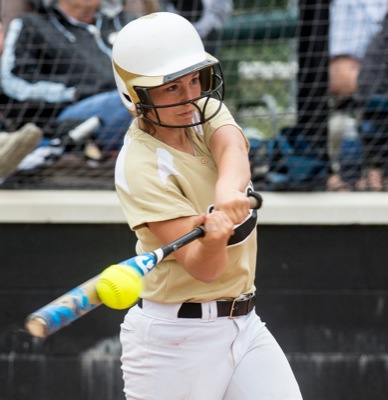 GREENVILLE - Parkway had one of the most prolific offenses in the state this season.
But not even the Panthers could produce enough runs against Williamsburg's Carly Wagers - one of the state's best pitchers.
The third-ranked Panthers had their 21-game winning streak snapped and season ended with a 6-2 loss to the sixth-ranked Wildcats in the Division IV regional semifinal on Wednesday at Greenville's Stebbins Field.
Rylee Clark hit a three-run double as part of a five-run third inning for Williamsburg and Wagers - who entered the game with 219 strikeouts this season - escaped trouble in the seventh to help the Wildcats become just the second team to topple the Panthers in 24 games.
"We had a great season," Parkway coach Mark Esselstein said. "In my heart, I believe that was the state championship game right there. I expect Williamsburg to win it. Our kids know what level you've got to play at to get there. I challenged the underclassmen to get there. I want to salute our seniors. Alisa (Gray) and Alyx (Slusher) have been great leaders."
The Wildcats had outscored their four postseason opponents 62-0 leading up to the showdown with the Panthers, who had won their three postseason contests by a 37-5 margin.
Parkway threatened to break Williamsburg's scoreless streak in the third inning after Macy Henkle reached base with a two-out double, the Panthers' first hit of the game. But Mackenzie Sipe grounded to short on the next at-bat and Makala Kirschner made a run-saving scoop at first for the inning-ending out.
Williamsburg did the majority of its damage in the bottom half of the third.
Jacee Rohne led the inning with the Wildcats' first base hit of the game. Panther starter Haley Hawk then walked Payton Fisher to put runners on first and second. Faith Golden followed with a sacrifice bunt. Hawk fielded the ball and had a throwing error to first, allowing Rohne to score. The Panthers intentionally walked Wagers to bring up Clark, who roped a bases-clearing double to right. Kara Bailey later made it 5-0 with an RBI single.
The Panthers put one on the scoreboard in the fourth. Alyx Slusher was walked by Wagers to begin the frame and Hawk followed with a double to right that put runners on second and third. A 4-3 ground out by Bailey Bates allowed Slusher to score. Wagers avoided any further damage by striking out the final two batters to leave a runner on third.
Parkway had plenty of scoring chances late in the game, too.
Hawk tripled in the sixth but rounded the third-base bag too far and was picked off. Bates had a single on the next at-bat. Alisa Gray reached on an error, but Wagers again killed the threat with another inning-ending strikeout.
McKenna Temple hit a single and Alyssa Miller walked to start the seventh for the Panthers. An RBI double with one out by Mackenzie Sipe scored courtesy runner Mecaylah Hesse. Miller tried scoring on the hit, however, she was called out on a bang-bang play at the plate.
Wagers walked Slusher and then intentionally walked Hawk to put Bates at the plate representing the tying run. But Bates hit a hard ground ball to shortstop Fisher, who stepped on second for the force to end the game.
"We had one bad inning, a couple walks, an error and then they got some timely hits," Esselstein said. "Then you're down 5-0. But I was so proud of our kids to keep battling. We had one day of practice to get ready for (Wagers). You know, I think the kids made the adjustment pretty quick. She's going to get her strikeouts. I told them that. But they went up there and battled and put the ball in play. We hit with them. They made a couple plays on defense to cut down runners to keep us from getting closer."
Wagers struck out 12, walked six and allowed six hits as she improved to 15-1.
"It's hard to make an adjustment that quick when you haven't seen that, but our kids battled as much as they could," Esselstein said. "Like I said, Carly's going to get her strikeouts, but we made them nervous at the end. If a couple plays go our way, it could be a different game."
Golden had an RBI single for Williamsburg's final run in the sixth. Wagers - who entered the contest hitting .671 with 22 home runs and 78 RBIs - was hitless in three plate appearances against Hawk.
Hawk went 2-for-3 with a double and a triple. She struck out four, walked three and allowed six hits in the pitcher's circle.
"I thought Haley really battled out there," Esselstein said. "The one inning they had a few good shots, but other than that, we pretty much played through everything and got outs when we needed to. Wagers hasn't gone 0-for-3 very often in her career. She got an 0-for-3 here."
Williamsburg (26-2) advances to Saturday's regional title game to face either Franklin Monroe (15-10) or Riverside (20-8). The Jets led the Pirates 7-2 with two outs in the seventh when lightning halted play. The game will resume today at 5 p.m.