Friday, May 26th, 2017
Man operating skid loader hurt in accident involving SUV
By Tom Stankard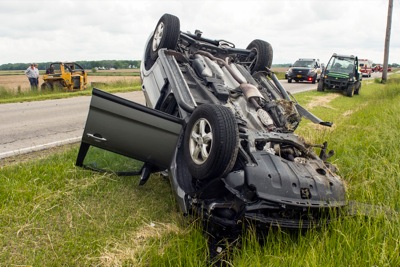 GRANVILLE TOWNSHIP - A St. Henry man operating a skid-steer loader suffered non-incapacitating injuries resulting from an accident Wednesday morning
Kaitlyn E. Schmit, Coldwater, was traveling westbound on Carthagena Road near Coldwater Creek Road in a 2007 Hyundai SUV at 11:05 a.m. when she reportedly failed to maintain a safe distance from the 1994 John Deere skid-steer loader traveling in front of her, according to a Mercer County Sheriff's Office report. The loader reportedly was operated by Alan J. Wuebker.
Schmit's vehicle reportedly struck the skid loader, spun and traveled off the south side of the road. Her vehicle proceeded to roll over before coming to rest, the report stated. Wuebker's skid loader reportedly traveled partially off the north side of the road and came to rest.
Wuebker was transported to Mercer County Community Hospital, Coldwater. Schmit suffered minor injuries and refused transport by squad, according to the report.
Both vehicles sustained disabling damage. Alcohol was determined to not be a factor in the accident, according to the report, and both drivers were wearing their seatbelts.
Schmit was cited for failing to maintain an assured, clear distance ahead, the report stated.