Wednesday, June 7th, 2017
Woman marks milestone
Eunice Profit, 104, shares her secrets to longevity
By Tom Stankard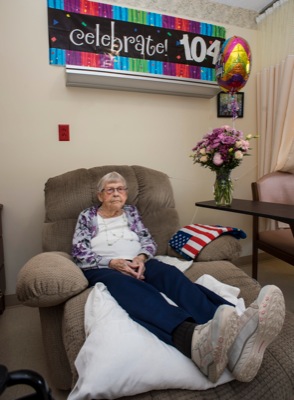 ROCKFORD - A local centenarian celebrating her 104th birthday says she knows the secret to longevity.
Don't "drink, smoke or chase fast men," Eunice Profit said during her birthday celebration on Tuesday at Colonial Nursing Home in Rockford.
Profit celebrated with her family and friends. Her room was filled with flowers, cards, banners and balloons marking the occasion.
Her mobility may be limited, but Profit remains sharp as a tack. She doesn't have a cellphone or know how to surf the internet. Rather she enjoys spending time reading, watching television and being with her daughter, Kathryn Smith.
Profit was born on June 6, 1913, to Viola and Grover Bowersock. Growing up, she helped her parents on the family farm near Spencerville in Auglaize County. She recalled milking cows and gardening. She also was required to tend the fields with the family's workhorses, even though she personally didn't like horses.
"I had to do it whether I liked it or not," she said.
When not doing chores, she liked to play with her 12 siblings.
"There wasn't much to do," said her only surviving sibling, Mary Conrad, 98. "We played ball. We had very few toys to play with."
On school days, Profit said she walked a mile to attend Smith School, a little country school building. One teacher taught first through eighth grades. When she was thirsty or had to use the bathroom, she had to go outside to the water pump or outhouse.
Profit also remembered when electricity was installed at her farm. She enjoyed it because she and her family were able to read better after dark.
Over time, the workhorses were replaced with tractors, and her hometown changed before her eyes, she said. The roads were paved, horses and buggies made way for cars, and telephone poles were installed.
Four of her brothers fought in World War II. Two were paratroopers but sadly did not return home.
"My mother was so sad when we found out we lost them," Profit said.
Profit met her future husband, Larry Profit, when she was 19. They went on a blind date to see a silent movie.
"Movies then are nothing compared to what they're like today," she said, grinning.
The couple had two children, Larry, who is now deceased, and Smith, who also was celebrating with her mother Tuesday at the nursing home. Profit also has three grandchildren, six great-grandchildren and six great-great-grandchildren.
When asked about her longevity, Profit turned to her faith.
"That's up to the Lord. I never thought I'd make it. But nothing's impossible," she said.