Wednesday, June 7th, 2017
What a way to start
Grand Lake opens exhibition season with combined no-hitter over Portland
By Gary R. Rasberry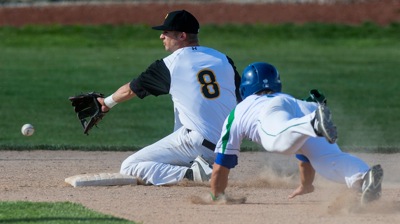 COLDWATER - Considering the team met for the first time last Thursday and had just a few practices under their belt, the opening exhibition game for the Grand Lake Mariners was one that had skipper Chris O'Neill beaming.
The Mariners had two big scoring innings and six pitchers combined to no-hit the Portland Rockets in a 10-0 preseason game played at Veterans Field in Coldwater.
"There might be some pressure on the guys to keep the no-hitter going," O'Neill said with a laugh. "We do have a greatly talented team. They're intensely focused and have been since they got here. If we can keep that focus, we'll be good."
The pitching was on point all evening. Mid-American Conference Freshman Pitcher of the Year Tyler Hankins (Central Michigan) kicked off the night with two perfect innings before giving way to Sam Rice (Ashland) and Stephen Morrison (Louisiana-Monroe) for two innings each, followed by one inning of work each from Andrew Niksich (Illinois State), Nicholas Newton (Marshall) and Alex Whaley (Murray State).
The combined tally was nine innings, no hits, eight strikeouts and four walks.
"We're pretty excited about the guys we have," O'Neill said. "Seeing Hankins in person was awesome. The guys who threw after him - Rice, Morrison, Niksich, Newton and Whaley - were phenomenal. They had a couple things to work through, but they're young. We want to see (Niksich) work through some adversity. Newtown threw well and Whaley is a big kid who throws the ball hard."
The first run for Grand Lake came in the first when Patrick Raiff (South Carolina-Upstate) walked with one out, stole second and went to third on a single by Blake Buckman (Louisiana-Monroe). Tucker Linder (Marshall) grounded out to short to bring home Riaff.
Portland pitcher, and Coldwater graduate, Derek Thobe (Ohio Domincan) pitched scoreless innings in the second and third before the Mariners plated three runs in the fourth. Bryan Chilton (Murray State) doubled in one run. Linder hit a grounder to short to score another and a Rocket error brought home the other run.
Thobe departed after the fourth. After a scoreless fifth, the Mariners sent 11 batters to the plate and scored five runs. A pair of Portland pitchers combined for two walks - both coming with the bases loaded - and three hit batsmen in the inning.
"I'm excited about the offense," O'Neill said. "We're talking about hitting the zone and hitting the ball to the gaps. When we had those opportunities, we did that. Guys had key hits when Portland had their miscues."
The closest the Rockets came to breaking up the shutout came in the seventh with Niksich pitching. Zach Tanner (Wright State) drew a leadoff walk before Niksich retired the next two batters. St. Marys grad Tristan Becker (Wright State-Lake) was walked and Coldwater alum Kyle McKibben (Sinclair) was hit by a pitch to load the bases for Chris Miller, who lofted a fly ball to right to end the threat.
Newton pitched a perfect eighth and Whaley had three straight groundouts to finish the ninth.
Raiff, Steven Fitzsimmons (Valparaiso) and Coldwater graduate Malave Bettinger (Toledo) each had two hits for the Mariners. Linder had two RBIs with Bettinger among four players with one RBI.
Other local players playing for the Rockets on Tuesday were Coldwater graduates Aaron Harlamert (Sinclair), who went 0-for-3, and Bill Geeslin, who went 0-for-4 but had four defensive assists at second base.
The teams meet again tonight at Montgomery Field in Celina for a 7:05 p.m. first pitch before wrapping up the three-game series on Thursday at Runkle-Miller Field in Portland, Indiana.