Wednesday, June 28th, 2017
Dunlap goes distance
Roughrider ace throws 7 strong innings in win
By Colin Foster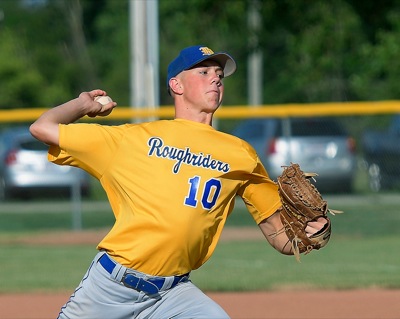 ST. MARYS - St. Marys coach Brian Beam expected Braeden Dunlap to go the distance on Tuesday.
"He's not going to be here for us in the sectionals, so this was his last game and he was going the distance regardless of what pitch count he was at," Beam said.
Dunlap met expectations by throwing a complete-game six-hitter to help the Roughriders snap a four-game losing streak with an 8-4 victory over Bath at K.C. Geiger Park.
The Roughriders gave him plenty of run support, too, with Austin Wilker (2-for-3, three stolen bases), Trey Fisher (2-for-4, four RBIs) and Drew Jacobs (1-for-3, three RBIs) leading the way.
St. Marys scored runs in four of six innings and never trailed after shaving scored four runs in the second.
"We hit, had good base running, were smart and did the little things. When that happens, you usually win," Beam said.
Bath built a 2-0 lead in its first at-bat. Jerimiah Bolon hit an RBI single with two outs and later scored after a string of passed balls.
St. Marys (4-4-1) got back one in the home half of the inning when Wyatt Bailey's single scored Clay Quellhorst, who had walked earlier in the frame.
Jacobs' two-run double in the second put the Roughriders ahead to stay. Fisher added a two-run single with two outs to extend the lead to 5-2.
The Wildcats cut their deficit to 5-4 in the fourth after back-to-back run-producing singles by Isaiah Bolon and Hunter Iiames, but St. Marys added insurance runs in the fourth and sixth.
Wilker singled in the fourth and then successfully stole second and third. Jacobs hit a ground ball to third and Wilker beat the throw to the plate. Two innings later, Fisher hit his second two-run single.
Dunlap closed out the game with a 1-2-3 seventh. He finished with seven strikeouts and three walks.
"I think he got ahead of the hitters a little bit better (after the first inning)," Beam said. "When you get that first batter out, that's always helpful. We played really good defense behind him. (Carter) Ballweg played really well at short. He was really strong. He had a lot of balls hit to him today."
St. Marys ends the regular season at Jackson Center on Thursday and then will open District 5 sectional play on Friday against Spencerville at Crestview High School at 6:15 p.m.