Tuesday, August 1st, 2017
Ghoulish zombies come haunting at Auglaize County fairgrounds
By Sydney Albert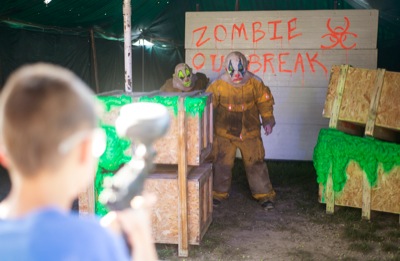 WAPAKONETA - As the sun sets at the Auglaize County Fair, the zombies come out to play.
The Hammer Brothers Haunted Circus, a new attraction at this year's fair, which runs through Saturday, has set up an escape room and a zombie hunt for fair goers to enjoy in the later hours.
The circus' wagon is open from 7-11 p.m. and allows patrons to use glow-in-the-dark paintball pellets to shoot zombie characters. Once the sun goes down and the main lights go out, the UV lights installed in the guns serve a dual purpose of letting the shooters see the targets directly in front of them and simultaneously blinding them to other targets in their peripheral vision.
Manager Matthew Gossard doesn't believe in using animatronics at his haunt, wanting the experience to be as realistic and unpredictable as possible so players can come back again and again and get a different experience each time.
The game is just a snippet of the larger story from their haunt site in Waynesfield. Gossard said while their wagon set-up at fairs works well and was a great starting point, it's just a taste of the real experience: a live zombie hunt on their 40-acre haunted farm.
"There is nothing - guaranteed - nothing in the United States like what we're doing," he said.
The Haunted Circus opened about three years ago, taking over a farm that had been used for the Scare Fair, a different haunt that had shut down after the owner had retired.
Gossard said groups of four are sent onto the farm with a guide in search of the zombie antivirus and must go through the cornfields and into buildings, clearing rooms in a way similar to the play in games like "Call of Duty." The teams will have limited ammo, encouraging them to be careful of when they shoot and to work as a team. Although the groups may think they're the hunters, they'll actually be the ones getting hunted, Gossard said.
"You will be the gazelle, not the lions, even though you have the guns," Gossard said with a laugh.
For now, fairgoers can practice their aim at the Hammer Brothers Haunted Circus wagon.

Fair schedule:
Today
• 6 p.m. - beekeeping presentation
• 6:30 p.m. - harness racing - Moon City Trot
• 7-10 p.m. - Beer Barrel Boys
• 7:30 p.m. - Jim Brady trio
• 8 p.m. - pig/calf scramble

Wednesday
Ladies' Day
• 9 a.m. - junior fair market hog show
• 10 a.m.-noon - craft demonstrations
• noon - junior fair board meeting
• noon-dusk - New Bremen Historical Society displays and demonstrations
• 1-3:30 p.m. - craft demonstrations
• 1-4 p.m. - Children Choosing Christ
• 2 p.m. - junior fair beef breeding and feeder calf show
• 2-6 p.m. - fine arts premiums paid
• 6:30 p.m. - horseshoe pitch class B; junior fair horse contesting show
• 7 p.m. - floral show; Tim Kuenning & Son woodcarvers; baking contest; junior baking contest; homemade wine and beer judging; junior fair dairy and market sheer shows
• 7-11 p.m. - T-102 Country star playoff final
• 7:30 p.m. - Collingsworth Family