Wednesday, August 23rd, 2017
Bulldogs sweep team titles
Mercer County Cross Country Meet
By Gary R. Rasberry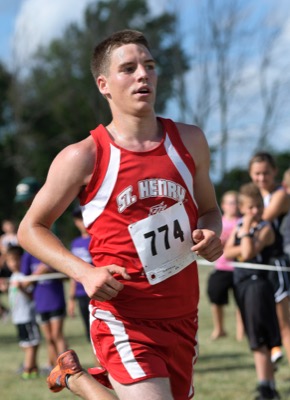 CELINA - The newly-minted cross country course on the grounds of St. John Lutheran Church in Celina proved to be a good one for St. Henry's Devin Huelskamp and Marion Local's Kelsey Broering as the pair won the high school records at the annual Mercer County meet on Tuesday.
Team-wise, Celina raised some eyebrows in sweeping the high school team titles.
"Well, (it was) a little bit unexpected for both of them," Celina cross country coach Dan Otten said.
Huelskamp was challenged most of the race by Parkway runners Matt Gaerke and Kyle Roth to finish in a time of 17:54.90.
"Felt good. Times were slower but it was the first meet," Huelskamp said. "I kept the pace through the whole race and didn't let down."
Celina's Ethan Ly placed fourth followed by Andrew Schoen of Coldwater, Jacob Klosterman of Celina, Noah Shrock of Celina, Braydon Hoying of St. Henry, Hunter Lynch of Celina and Reid Etzcorn of Parkway.
Celina placed its top five runners in the top 18 to capture the team title with 44 points. St. Henry was second with 51 followed by Parkway (61), Coldwater (80), Fort Recovery (127) and Marion Local (156).
"Parkway I figured would be good. St. Henry, which I really noticed because they're red and white is pretty good. Their fourth and fifth guys were just far enough (back)," said Otten. "We squeaked by."
Broering got out to a tremendous lead early and never looked back, winning by more than 100 meters over runner-up Lauren Jackson of Celina in 20:53.51.
"I'm used to the sun because I work on a farm. I've been in hotter weather. I think it helps me a bit," said Broering. "I was really pushing it because I have friends from other schools who are running my times. They were really pushing me and I wanted to get ahead."
Lauren Hemmelgarn of St. Henry was third followed by Chloe Will of Fort Recovery, Caleigh Ross of Celina, Courtney Bye of Coldwater, Vannessa Goewert of St. Henry, twin sisters Beth and Sara Honigford of Coldwater and Ashley Bruns of St. Henry.
Celina captured the team championship, edging St. Henry 48-52. Coldwater was a close third with 54 with Marion Local fourth with 90, Fort Recovery fifth with 115 and Parkway sixth with 139.
"Caleigh Ross, for her first (cross country) meet ever, ran really well. She never seen a cross country race before," said Otten. Ashley (Robinson) was where she would have been. Lauren only ran in one race last year. Just watching the race, I would have guessed we were second or third."
In the middle school races, Celina won the boys' title with 27 points. Kyler Clevenger finished first in the two-mile race in 13:13.83.
Coldwater won the girls' middle school team title with a blistering 19 points as five of the first six finishers were Cavaliers. Haley Alig of Coldwater won the race in 14:06.83.
Celina hosts its annual Rotary Invitational on Saturday starting at 9 a.m. at the Wright State University-Lake Campus. All of the county teams will take part in the meet.