Wednesday, August 23rd, 2017
Roughriders sweep Auglaize Invite
By Colin Foster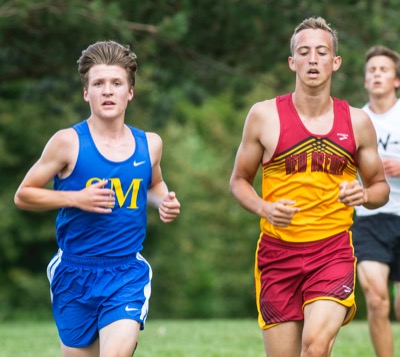 ST. MARYS - St. Marys coach Rob Cisco was busy managing the Auglaize County Invitational.
And his runners managed to dominate.
Noah Tobin and Morgan Henschen won individual titles for St. Marys, and the Roughriders' high school and junior high teams swept the meet on Tuesday at K.C. Geiger Park.
BOYS
Noah Tobin just expended a ton of energy to win the Auglaize County title.
The sophomore saved plenty of energy to celebrate, too.
After having won the first race of his high school career, Tobin joked with runners as they entered the finish shoot, greeted his girlfriend and even led a cheer for the junior high team.
"The reason why I have so much energy is because I'm hyped," said Tobin, who finished in a time of 17:57.54. "Who wouldn't be excited after they won? Sure, I was huffing and puffing after the race. ... I saw my girlfriend and gave her a big twirl-around hug, you know, like they do in the movies. She kissed me on the forehead and she said 'Ew!' because of all the sweat."
"For this early in the season, (his time) was very impressive for a sophomore runner," coach Cisco said.
The Roughriders won with 38 points. Rounding out the top five finishers for St. Marys were Jaros Machael (sixth, 19:27.36), Zack Cisco (eighth, 19:44.83), Tommy Mabrey (11th, 20:10.89) and Jordan Heitkamp (12th, 20:15.35).
"Honestly, what excites me most about this group of boys is I've got a lot of sophomores and we had success with a lot of sophomores," coach Cisco said. "I've been here a long time and I've really never had as deep of a team as I have."
Led by Ezra Ferguson's third-place finish, New Bremen was meet runner-up with 47 points. Hunter Waterman placed fifth in a time of 19:19.60. The other top-five placers for New Bremen included Kenny Simindinger (seventh, 19:33.82), Sam Rutschilling (15th, 20:41.42) and Boyle Landin (17th, 20:52).
New Knoxville's Zach Privette finished ninth overall (19:59.96). The Rangers were fourth with 111 points.
Led by Isaac Webb's second-place finish (18:14.45), Wapakoneta placed third with 61 points.
GIRLS
Morgan Henschen isn't used to leading the pack.
The junior better get used to it.
Henschen took charge early on Tuesday and maintained her distance from the field en route to winning the race in 21:20.62 a season after having finished third at the same meet.
"The experience was definitely different being out in front, like I don't have anybody in front of me to push me," she said. "So learning to pace myself was definitely one of the hard things."
Her teammate, Laura Wilker, made it a 1-2 sweep for St. Marys, finishing runner-up in a time of 21:28.95.
"Morgan Henschen and Laura Wilker have both kind of ran underneath the umbrella of Kelly Wilker, who's now graduated," coach Cisco said. "It's good to see Morgan become the Auglaize County champion. Laura ran her personal best time - better than any time she ran all of last season, and she was in the top five on my state team. She's really worked hard all summer and was really impressive."
"Losing Kelly from last year is definitely hard on our team, but we have her sister Laura Wilker coming and she's gotten a lot better from last year and she's helped push me more," Henschen said. "Our team is just building and our program is continuing to grow."
Rounding out the top five for St. Marys were Lauren Cisco (fifth, 22:46.41), Brianna Cisco (eighth, 23:28.14) and Laura Donovan (14th, 24:08.38).
"Lauren Cisco ran a really strong 22:46 and I was really proud of her time," coach Cisco said. "Our fourth runner, we call her 'Breezy,' (Brianna) Cisco, ran a minute faster than she did a week ago. She is a freshman and midway through training, we started to see some characteristics of her that we see in good runners. And Laura Donovan ran strong as our fifth runner. The most valuable runner is always your fifth runner."
The Roughriders edged New Bremen for the team title. The Cardinals tallied 37 points.
Leading the way for New Bremen were Alayna Thieman (21.38.83) and Teresa Lane (22:32.78), who finished third and fourth, respectively. Alana Speelman (ninth, 23:29.70), Molly Smith (10th, 23:54.29) and Hanna Tenkman (11th, 23:56.78) were the rest of the top five.