Friday, September 1st, 2017
Officials make ties in capital
Commissioners learn resources available to them in Washington
By William Kincaid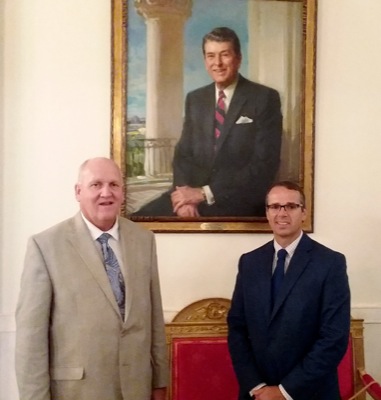 WASHINGTON - Two local county commissioners traveled to the White House to take part in a relationship-building forum with Trump administration members.
Republicans Rick Muhlenkamp of Mercer County and Doug Spencer of Auglaize County joined other county commissioners from throughout Ohio on Tuesday to develop relationships and open lines of communication with White House and federal agency officials.
Three other states also have sent commissioners.
"Tuesday's event continues the administration's innovative localized outreach efforts," White House media affairs spokesperson Tyler Ross said. "Previous administrations have never held White House events dedicated solely for our local county commissioners."
Muhlenkamp and Spencer, who drove together to Washington, said they felt the event was a sincere effort to open access to federal agencies for local officials.
"For those situations that come up that have interaction between the local government and federal government, they wanted to make sure that that door is open for communication to the federal level," Muhlenkamp said.
Spencer said in the 10 years he's served as commissioner, he'd never thought to call the government affairs office for help.
"They said if local government has problems, there is an open door to be heard by the federal government," Spencer said. "They may not give the answers we want to hear, but at least there is a connection established there."
Within the Eisenhower Executive Office Building in the White House complex, a bevy of federal officials, including Vice President Michael Pence, Secretary of Agriculture Sonny Perdue, counselor Kellyanne Conway and Cabinet underlings engaged commissioners in localized policy discussions and efforts to enhance relationships.
The federal officials provided commissioners with information on how to contact them directly, Muhlenkamp said. They assured commissioners they will respond.
Though many of commissioners' policy concerns are ultimately decided by Congress, federal officials stressed they'll do their best to facilitate communication, Muhlenkamp said.
They told commissioners "whatever things that come up on your plate locally that we can help resolve because of federal policy, reach out to us and we'll see if we can do something to help you out," Muhlenkamp said.
"That was spoken by every speaker, and I think that point was driven to them by the Trump administration itself, which made me feel good that they do care," he said.
Muhlenkamp believes the commitment is heartfelt.
"I think they felt very sincere with their comments because it was reiterated through the whole day, and I think it's just part of the Trump administration's plan to (cut red tape)," Muhlenkamp said.
Secretary of Health and Human Services Thomas Price and Secretary of Housing and Urban Development Benjamin S. Carson Sr. were scheduled to speak but couldn't make it because of Hurricane Harvey, Muhlenkamp said.
However, Pence made an unannounced appearance, giving an "energizing" campaign-like speech about making America great again, Muhlenkamp said.
"When you're sitting in a room and have the vice president walk out unexpectedly, that was a surprise to all of us," Muhlenkamp said.
Muhlenkamp said the day was without partisan politics, as federal officials stressed they were dedicated to serving everyone fairly and equally.
"There was no slamming of the other party," Muhlenkamp said.
A comment that resonated the most with the gathered commissioners came from White House Deputy Chief of Staff for Legislative Intergovernmental Affairs and Implementation Rick Dearborn, Muhlenkamp pointed out. Dearborn said the country needs to step back from depending too much on the government and instead look to friends, family, charitable organizations and churches.
"Maybe get out of this mentality status of the government has to do everything to help us out, which we do great with here locally but not in all areas of the region," Muhlenkamp said.
He added that it was an honor to attend the White House conference, a gathering that made him feel proud to be a commissioner. He also noted that he left Washington with a great sense of pride in the country's system of government.
Spencer expressed similar sentiments.
"That was my first time being inside the White House," he said. "I was glad to be able to step foot inside the people's house. A lot of history has been made inside there."

- Daily Standard staff writer Tom Stankard contributed to the story.