Friday, September 1st, 2017
Maria Stein marathon
Redskins outlast Flyers in five sets
By Colin Foster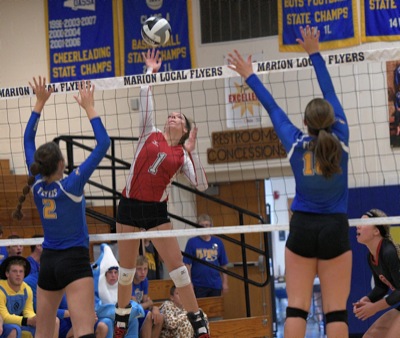 MARIA STEIN - St. Henry had a forgettable first set in Thursday's Midwest Athletic Conference match with Marion Local.
But it turned out to be a memorable night for the Redskins.
After getting dominated in the first set, St. Henry came back to outlast Marion Local for a five-set victory (12-25, 25-22, 25-22, 22-25, 15-13) in a marathon match at the Hangar.
The Redskins improved to 5-1 and 1-0 in MAC play. The defending conference champion Flyers were handed their first loss as they fell to 4-1 and 0-1.
"Those last four games, we found a way to push and finish. It wasn't always pretty, but we managed to find a way," St. Henry coach Tricia Rosenbeck said.
"Every game in the MAC is going to be like that. It's going to be fun, but it's going to be nerve-wrecking."
The Flyers led 4-3 early in the first set when they went on an 11-1 run to increase the lead to 15-4. St. Henry committed 11 hitting errors and one serving error in the first set. Kylie Albers had three aces for Marion and Kara Evers added three kills in the 25-12 win.
"In that first set, we were flat and I feel like we were just walking through the motions," Rosenbeck said. "Anytime we'd get a good swing, they'd hit it back because Marion's defense is unbelievably good. They kept just giving everything back, and for some reason, we weren't expecting it in the first game. It did not go well."
It did get much better for St. Henry, though.
Marion Local had a case of the errors early in the second set, allowing St. Henry to jump out to an 8-3 lead. The Flyers followed with a 5-0 run to tie the set, the points coming via a Taylor Huelsman kill, a Lexi Arling ace and three St. Henry errors. The set was tied 10 times in total, one final time at 18-apiece. From there, the Redskins ripped off a 5-0 run, spearheaded by Marlee Vaughn's two kills. Marion cut the deficit to 23-22 later thanks to a pair of Albers' kills and an ace by Carrie Fesenmyer. But back-to-back double hits by Marion gave St. Henry the clinching points.
The third set was also tied 10 times. St. Henry trailed 17-15 before reeling off six consecutive points with Addy Vaughn capping the run with an ace. The Redskins maintained at least a two-point cushion the remainder of the set, and Britney Siefring sealed the deal with an emphatic kill from the left side.
"It was fun watching Kara out there tonight," Marion Local coach Erica Schulze said. "She really stepped up and carried the team. Definitely wish we would have won, but to see Kara step up like that was huge for us. I think it was a huge confidence boost for her going forward with the rest of the season."
St. Henry opened up an 11-6 lead in set four, but it didn't hold up. Kara Evers' spiking spree turned the tide for Marion. The senior had four consecutive kills and then added a block and Natalie Rethman had two aces as the Flyers surged ahead 14-11. Marion Local never let St. Henry creep any closer than two points. A pair of blocks by Morgan Heckman, a kill by Brooke Homan and a few hitting miscues by St. Henry helped Marion finish the job.
Marion Local rallied back from an 8-4 deficit in the fifth set to knot the score at 8-apiece. The set was tied at 9, 10, 11, 12 and 13. St. Henry clinched the victory on kills by Ashley Siefring and Marlee Vaughn on consecutive sequences.
"Both teams stepped up and played really well," Schulze said. "It came down to a fifth set and St. Henry made a few more plays than we did. It was a very, very evenly matched game. It was fun to be in that environment. It was fun to be coaching. Props to St. Henry for pulling out the 'W.' "
Olivia Clune totaled 11 kills and three blocks for St. Henry. Carleigh Deitsch tallied 19 assists and 13 digs and Julia Holdheide added 23 digs.
Evers had a match-high 17 kills and also added three blocks. Albers finished with nine kills, Fesenmyer had 35 digs, Lexi Arling had 21 digs, Rethman totaled 20 assists and Homan posted five blocks.