Saturday, September 2nd, 2017
Kaiser bids adieu after seven years of service
Treasurer's post to change hands
By William Kincaid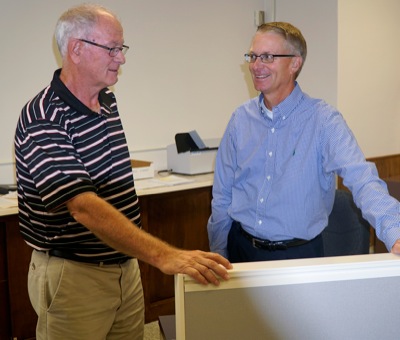 CELINA - Retiring Mercer County Treasurer David Kaiser spent his last day in office on Friday.
He was honored by his colleagues during a Thursday afternoon open house in the county courthouse auditorium for his seven years of service.
Kaiser, R-St. Henry, chose not to run for re-election in the November general election. His successor is David Wolters, R-Maria Stein.
"I decided that if I could find a good candidate to replace me, I would encourage that person to step in," he said.
That candidate ended up being Wolters, a man Kaiser said he has known and respected for years.
Kaiser took office, essentially acting as the county government's banker, in May 2010 when he was tapped to fill the unexpired term of treasurer Doris Rutschilling, who retired March 31 of that year. He has held the office ever since.
"I think his performance was very commendable," longtime county commissioner Jerry Laffin, R-Coldwater, told the newspaper. "He served very honorably to the best of his abilities."
Kaiser, who had never held public office prior to taking over as treasurer, experienced a baptism of fire.
"The seat was empty for about a month before I stepped in," he said. "I was trained by my staff on the spot. Total immersion."
But he said he had the support of his staff, other elected county officials and the state's 87 other county treasurers.
"You get on the phone and you can call any one of (the other county treasurers) any time, and they are very helpful, very willing to give you advice and what procedure to use for this or that."
While investing the county's inactive funds, which today total between $28 to $29 million, Kaiser had a philosophy that prioritized preservation of capital, maintaining liquidity and earning an optimal return.
When CD interest rates were as much as 5 percent, the county was earning $1 million a year on its investments. But then the bottom dropped out nationally in the recession's aftermath. Interest income dipped to as low as $155,000 in 2013 before rising to $414,000 in 2016.
"For the year of 2017, we hope to take in interest income of about $530,000 and that's the highest it's been since (around 2010)," Kaiser said.
Kaiser attributed the turnaround, at least in part, to a strategic plan involving, among other things, putting county money into up to five-year investments as permitted by Ohio law.
The county today has about $32 million in the treasury - $3 to $5 million in liquid funds or cash to take care of the county's day-to-day operations and the rest in longer-term investments, according to Kaiser.
Asked about his proudest accomplishments, Kaiser pointed to efforts to streamline operations, saving the county money.
"I have a philosophy of 'if it ain't broke, don't fix it,' " he said. "So I continued the policies of my predecessor, but at the same time you kind of keep your eyes and ears open for any kind of new developments - anything that can help with the efficiency of the office or save money for the county."
Some changes under his watch included the outsourcing of tax-bill printing, which Kaiser said was a cumbersome, time-consuming process; offering a credit-card payment option via a third-party administrator; and automating the manual processing of bills.
Through improved efficiency and attrition, the office size has reduced to three employees, including the treasurer.
"That's as thin as we can get though," Kaiser said.
Prior to taking office, Kaiser taught math for 24 years and served as a guidance counselor for nine years in the Fort Recovery Local Schools district. He also worked at Kaup Pharmacy in Fort Recovery for more than four years.
Kaiser and his wife, Ethel, have four grown children.
"My wife and I intend to do a lot of traveling. We have places we'd like to see, and we have 10 grandchildren. I'd like to spend time going to their sporting and other type events," he said. "I'll stay active in the civic organizations that I've been a part of."