Saturday, September 2nd, 2017
Panthers edge Bearcats 14-13
By Dave Stilwell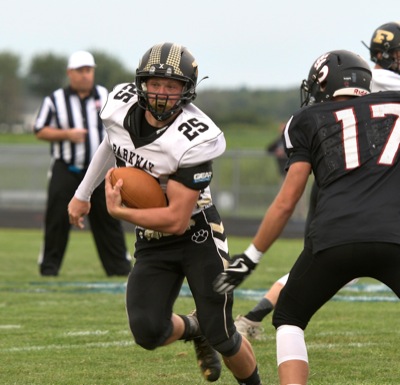 SPENCERVILLE - Parkway stopped a two-point conversion midway through the fourth quarter to help preserve a 14-13 victory over the Spencerville Bearcats on Friday night at Memorial Field in Spencerville.
After scoring on a two-yard quarterback sneak with 7:12 left to play, Spencerville coach Chris Sommers rolled the dice and went for the lead.
Bearcat quarterback Daniel Corso called his own number on a naked bootleg and the Panthers were waiting for him.
"All night, they had been getting their quarterback out on the perimeter, so we told our corner, 'If they send guys out for a pass, let them go, we're going to play all day on the quarterback,' " Parkway coach Shane Wellman said. "And it worked our favor. We rolled the dice and took a chance, but all the credit goes to those kids. They made some great plays."
Parkway was only able to pick up one first down on its next possession before punting back to Spencerville with 5:10 left on the clock.
The Bearcats methodically drove back inside the Parkway 20 before the Panther defense came up with three consecutive negative plays to put Spencerville into a fourth-and-15 situation at the 23-yard line.
With 1:23 left on the clock the Bearcats elected to try a 40-yard field goal, but junior kicker Conner Holmes came up well short of the crossbar.
With Spencerville out of timeouts, Parkway quarterback Andrew Baker was able to take three knees to run out the clock and even the Panthers' record to 1-1 on the season.
"This was a great football game tonight," Wellman said "We missed a lot of opportunities. We had some wide open passes that we just overthrew or dropped. We could of had a few more scores, but I'll take a one-point win right now. It's been a long time coming."
Parkway scored what would prove to be the only points of the first half on the third play from scrimmage.
Sophomore Nick Hawk found a seam in the right side of the line and rambled 39 yards for the touchdown with 10:28 showing on the clock. The PAT kick by Justin Rice was no good.
Spencerville turned over the ball on downs twice in the first quarter, while the Panther offense dominated the second quarter.
Parkway had drives of 15 plays and 12 plays in the second quarter, neither of which resulted in points.
"We just need to make plays," Wellman said. "I knew if we just kept plugging away sooner of later we were going to punch it into the end zone. This team is very resilient."
Spencerville struck first in the second half on a 17-yard run up the middle by Joel Lotz. Holmes booted the extra point to give the Bearcats their first lead, 7-6, with 5:13 left in the third quarter.
Parkway answered by taking advantage of a Spencerville mistake. Rice recovered a muffed punt at the Bearcat 40. Three plays later, Baker connected with Caden May from 38 yards out for a touchdown.
Hawk converted the two-point conversion with a run up the middle to give the Panthers a 14-7 lead with 1:06 left in the third quarter.
Hawk finished with 78 yards on 19 carries to spark a Parkway running attack that rolled up more than 200 yards.
Chris Picker paced the Bearcats on the ground with 98 yards on 18 carries despite not playing for most of the second half.
Spencerville falls to 0-2 on the season and travels to Perry next Friday.
Parkway opens Midwest Athletic Conference play next week at home against Fort Recovery.
"There are no weeks off for us," Wellman said. "We started the season with two playoffs teams from last year (Crestview and Spencerville). We get a third playoff team this coming week with a very good Fort Recovery team and we get a fourth playoff team right after that in St. Henry."