Saturday, September 9th, 2017
The write stuff
Educators find value in learning cursive skills
By Tom Stankard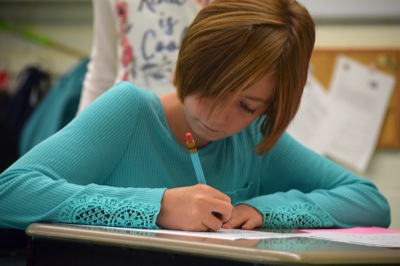 Even though sending emails has become more common than sending letters, area educators continue teaching students to read and write in cursive.
While many teachers say learning to communicate through cursive writing is outdated, local educators say the skill still has benefits in the modern world.
It's important for people young and old to be able to write and read in cursive, even though the Ohio Department of Education does not require educators to teach it, Parkway Elementary School Principal Mark Esselstein explained.
Area students begin learning the skill in either second or third grade. At this age, students are excited to learn cursive because it's cool, said Marion Local Elementary School Principal Nick Wilker. However, their interest in writing in cursive tends to fade away.
Celina Elementary School Principal Cory Ahrens explained third-graders learn to write in cursive by first forming individual letters. They gradually learn to form words and then sentences.
For fourth-graders, teachers instruct students to write certain assignments in cursive to ensure they continue to practice the writing style, Ahrens expressed. Similarly, New Bremen and Marion Local students begin learning the skill in the third grade and practice it through the fourth grade for 15-30 minutes, Wilker and New Bremen Elementary School Principal Diane Kramer said.
Students enrolled at St. Marys Holy Rosary Catholic School and Celina's Immaculate Conception School begin learning cursive in the second grade and continue practicing it through the fifth grade.
Parkway Elementary School educators spend only about 10 minutes a few days per week teaching cursive, Esselstein said. He explained the school board made this decision because teachers have little time left over after finishing with state-mandated coursework.
Although cursive is becoming a lost art, Holy Rosary teacher Jane Guggenbiller said historical documents were commonly handwritten, and members of older generations often choose to write that way. Having students familiar with cursive writing makes those documents more accessible.
Over time, though, cursive has faded away in favor of electronic communication, Esselstein noted.
"People don't often write letters anymore," Esselstein said. "People are using email, text messages and word processors more."
This is one reason the ODE doesn't require students to learn cursive anymore, he explained.
However, knowing how to read and write in cursive has several benefits, educators pointed out. Wilker said reading and writing in cursive "expands students' minds and makes them better thinkers and better problem-solvers."
Writing in cursive also encourages better hand-eye coordination, Guggenbiller said. She explained learning cursive trains the brain to be able function more effectively.
"Schools that drop it may lose an important learning skill-development tool," she said.