Saturday, September 9th, 2017
Pressure cooker
Flyers hold off Cavaliers for 13-7 win
By Colin Foster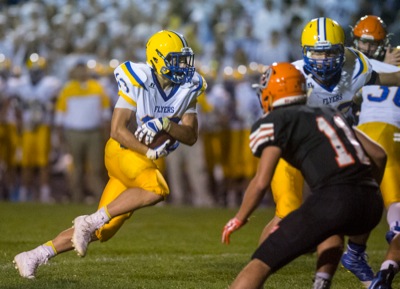 COLDWATER - Tyler Mescher barely got off a punt in the face of heavy Coldwater pressure as time expired.
And just like that, the Marion Local Flyers survived another pressure cooker of a game with Coldwater.
Behind a pair of Nolan Habodasz touchdown runs and a late defensive stand, Marion Local ended a two-year losing streak to Coldwater with a 13-7 victory at Cavalier Stadium.
"I just told the team that we have all these new starters and through both scrimmages and both games, this is the first time we've been tested," Marion Local coach Tim Goodwin said. "We don't have rookies anymore after tonight, so hopefully we can really start honing in and improving.
"We got this one under our belts. The kids played extremely hard. We didn't play extremely well, but we played extremely hard. We have some athletic ability, and those kids are just going to continue to get better."
Could this series get any better? The last three games have now been decided by six points or less.
And much like the last two, this one was a defensive battle throughout.
Marion Local benefitted from a few turnovers and good field position to put two scores on the board. The total distance covered by the Flyers on their two touchdown drives was 59 yards. Habodasz scored from one yard out to cap a 10-play, 49-yard drive with 8:53 left in the second quarter and later finished off a four-play, 10-yard drive with another one-yard TD at the 7:29 mark of the third.
The Flyers totaled 204 yards on 55 plays. By comparison, the Cavaliers ran 53 plays for 205 yards.
"It's been like this for several years," said Coldwater coach Chip Otten, who fell to 4-4 against Marion Local. "It seems to be more than not a defensive battle. If you don't take advantage of the opportunities and if you turn it over, those are killers, because you don't get that many chances to score."
"I thought both teams matched up well against the other's offense going into the game," said Goodwin, now 7-12 against the Cavaliers. "I mean, this is Marion Local-Coldwater. That's just how it goes."
Sam Broering put the Cavaliers on the scoreboard first. Coldwater took over at its own 35 after a Marion Local three-and-out. Broering found Caleb Dippold for a gain of 14 on the first play and Marion was flagged for a defensive holding penalty on the very next play. Broering then faked a handoff and shot up the middle virtually untouched on his way to a 40-yard touchdown. Blake Dippold's extra point made it 7-0 Cavs with 5:03 left in the first quarter.
The Flyers were forced to punt again after a three-and-out on their next series. The punt pinned Coldwater at its own 30. Broering was sacked on three straight plays for a loss of 10 yards. The Coldwater punt gave Marion the ball at the Cav 49.
The Flyers drove the yardage on 10 plays (eight runs, two passes) with Habodasz punching in for his first TD. A missed extra point left Coldwater leading 7-6.
Each team had scoring chances fall flat later in the half. Broering led the Cavaliers within field goal range on the following series, but the 30-yard kick was missed, leaving the Flyers with the ball at the 20 with just under four minutes to go.
Nick Tangeman laid out for a 37-yard catch on the sideline from Nate Bruns with just over two minutes to go in the half, moving the ball into the red zone. The Flyers faced a fourth-and-1 from the 11 with 1:27 left and Habodasz ran for the first down on a pitch. However, the Flyers were penalized for holding on the play and couldn't convert the following fourth-and-long.
Marion Local's Matt Rethman carried the opening kickoff of the second half 35 yards into Cavalier territory at the 48. But Marion's drive was quickly derailed as Bruns was sacked for a loss of eight. That, however, turned out to be a positive for Marion.
Mescher's punt pinned Coldwater inside its own 10-yard line. Soon after, John Dirksen and the Flyer line charged in and sacked Broering to force a fumble. Sam Huelsman recovered at the nine.
Habodasz carried the ball around the end for a seven-yard pickup on third down. He then bullied his way to paydirt on the next play, and the Flyers led 13-7 with 7:29 to play in the third.
Shortly after, the Cavs moved into Flyer territory on a 38-yard double-pass from Jacob Wenning to Jacob Hartings. But the Flyer pressure again forced a turnover, this time Jack Buening supplied a fumble-forcing sack on Broering and Henry Keller jumped on the ball at the Cav 49.
The Flyers drove into the red zone, but eventually missed a 21-yard field goal attempt.
Broering followed with a 17-yard completion to Ben Wenning, ending a stretch of four straight incompletions. But Rethman intercepted Broering on a trick-play pass moments after and returned the ball back inside Cav territory.
Again, though, the Cavalier defense again stood tall with their backs against the wall. They tripped up Habodasz one-yard short on a fourth-and-two near the 30.
Coldwater made it near midfield again on its next drive, but again had a drive derailed by a Marion sack - this one by Darrin Hays.
The Cavs got one more crack at it with just more than four minutes to play. They crossed midfield on a big-chunk pass play from Broering to Ben Wenning. They later faced a fourth-and-8 from the 45 when Broering found Ben Wenning for a gain of 10 and a first down. That, however, was the last time the chains moved for the Cavaliers as they missed on a fourth-and-3 pass attempt. Mescher's late punt in the face of Coldwater's pressure sealed the deal.
The Flyers' win avenges two consecutive 17-14 losses in the series.
"When you play Coldwater, every facet of your team - offense, defense, special teams - gets tested," Goodwin said. "It was very similar to last year and we got that punt off. It was very similar to last year and we made that fourth down stop. Other than that, the game was the same as last year."
This marked the first time Coldwater has lost back-to-back games since 1996.
"My first year here, we didn't lose two in a row, but we were 1-2 at one point and ended up in the state finals," Otten said. "I guess that's part of the message. You can't think you're out of it. You've got to show up each game. There's some good teams in the league. Marion might lose one. We won (the MAC) last year, but we also lost one along the way. At this point, you just think about it one game at a time."
Habodasz carried the ball 18 times for 78 yards. Bruns completed 10-of-19 passes for 96 yards. Rethman had seven catches for 49 yards.
Broering finished 13-of-23 passing for 105 yards and added 17 rushes for 39 yards. Ben Wenning caught seven passes for 50 yards.
And in case anyone was wondering ... the 50/50 raffle winner went home with $13,254.
Marion Local hosts unbeaten Minster in another big MAC game next Friday. Coldwater travels south to Fort Recovery to face the 2-1 Indians.