Wednesday, September 13th, 2017
Drug court head says addiction complex
By William Kincaid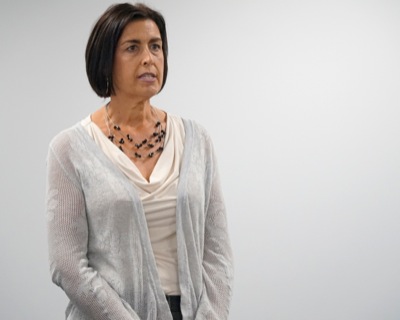 CELINA - Alicia Bruce said she was naïve when she began working as the Mercer County Drug Court coordinator, thinking if people could get off heroin and stay sober, everything would be fine.
"The reality is we're dealing with addiction, which is (also) alcohol and methamphetamine," she told Celina Rotarians on Tuesday afternoon, pointing to a total shift on the criminal court docket from heroin to methamphetamine arrests.
Bruce said for her, almost four years after the court was set up amid the local opiate epidemic, the proverbial light at the end of the tunnel is a court-supervised pathway to sobriety for people who have never been sober before.
"It's like saying is there a cure for mental illness. There's not. There's a management plan. What we have is a management plan," she said, adding people have the opportunity to get and stay sober through accessible treatment services.
Started in February 2014, the voluntary 18-month intensive program aims to steer drug abusers toward becoming productive citizens by addressing both their addictions and their criminal behavior. Bruce works with the Mercer County Common Pleas Court and Foundations Behavioral Health Services to strive toward that goal. She has 18 years of experience with Foundations, working in mental health services and addictions.
"Most of our folks that we put through the drug court, over 90 percent have been addicted to heroin and get their heroin from the Dayton area," she said.
One question looms large in many minds, Bruce said: Why would people take a drug in the first place that will likely kill them?
From her experiences, Bruce said most people who start experimenting with opioid pills such as Oxycontin and Percocet - grinding them up and snorting or injecting the drug - have no idea the practice will lead to physical dependence.
For instance, one woman a few years ago began using opiates and later experienced nausea, sweating, vomiting and diarrhea - all while having no idea what was going on with her body, Bruce said.
"She thought she had toxic shock syndrome from a tampon. She had no idea," Bruce explained.
Drug court officials will only admit people who exhibit a willingness to change, she said.
"Most people when we find them are in such a state of desperation because they've had multiple incarcerations. They've overdosed," she said.
Addicts show a lot of enthusiasm to change when the consequences are obvious, she said.
"So when you're wearing an orange jumpsuit and you're on the phone crying because you can't see your kids, because you're about to lose your apartment, because you got nothing and you're scared to death, that's generally the jumping-off point that we want people to be," she said.
Addicts must experience a certain amount of pain to want to turn around their lives. Yet the pain they feel is not enough to sustain their recovery. They must be willing to work hard and endure discomfort, Bruce stressed.
But the drug court has a fantastic team of people on hand to help participants over the course of 18 weeks of drug treatment, individual counseling, case management, group therapy and mental health treatment, Bruce said. A program also attempts to steer them away from criminal behavior and poor choices.
"A lot of the participants develop very close relationships with their probation officers as well as their counselors as well as me," she said.
For the first six months, participants are tested daily for drugs.
"That's something that's very unique to us. It is something the participants have actually asked for. The accountability of the testing is very helpful for them," she said.
Also, six weeks into the program, participants are expected to seek out employment. Over the last four years, at least 15 employers have taken a chance with drug court participants, many of whom work hard and long hours once they've begun to address their addiction, Bruce said.
The drug court has a retention rate of 50 percent, she pointed out.
"Dishonesty is the most common reason why people get kicked out of drug court," she said. "Our program, we demand honesty and accountability and if you're not in for that - along with being clean - you're probably not going to make it."
That doesn't mean the people can't seek treatment later, rather that they're not ready and must be let go, Bruce explained.
"The people that I thought would do great coming in, sometimes they fall flat on their face, and the ones that you never think are going to get it, all of a sudden things click and they start doing the things that they need to do to stay sober," she said.
Bruce also pointed out a recent success story of a man who had completed a year of sobriety. Prior to drug court, he had been revived more than 10 times in the emergency room with the the overdose reversal drug Narcan, she said.
"I cannot tell you what a powerful moment that was to watch somebody who almost died, I don't know how many times, be a year sober and to watch those old-timers give their respect to him," she said.
People are directed to drug court through a dispositional proceeding involving sentencing, judicial release or a probation violation, Mercer County Common Please Court Judge Jeffrey Ingraham said.
To qualify, a person must be diagnosed as a substance dependent and have completed a drug/alcohol assessment, be a Mercer County resident and a defendant in a case on the common pleas court's criminal docket.
Those facing a felony offense involving drug trafficking (unless the prosecuting attorney does not object), sex offense or a mandatory prison sentence are ineligible.
Program applicants are investigated by the probation department.
That report is then put before the judge who decides whether or not to admit the applicant.