Wednesday, September 13th, 2017
Riders, Indians play to 4-4 draw
By Colin Foster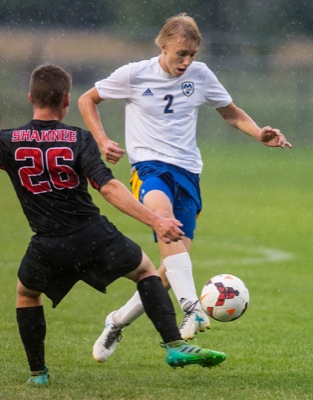 ST. MARYS - Dave Ring wasn't thrilled with the start his St. Marys Roughriders had during Tuesday's big Western Buckeye League matchup with Shawnee.
But, all things considered, Ring couldn't wasn't too upset with how it turned out in the end.
After falling behind 2-0 within the first 15 minutes, St. Marys outscored Shawnee 4-1 to end the half and nearly held on for victory. Cameron Tenwalde's goal with 17:44 remaining leveled the match and the teams ended a wet and wild night in St. Marys with a 4-4 draw.
The Roughriders are now 4-0-1 (2-0-1 WBL) and the Indians are 5-1-2 (1-1-1).
"We dug out, got ahead and then we just couldn't do it," Ring said. "It was slippery turf so it was tough conditions for the keeper. Our sophomore keeper (Henry Spencer) was doing the best he could. Luke (Vondrell) has a hurt hand, so it wasn't even an option for him to play. ... But you can't get down 2-0, come back and be upset."
Ethan Shallow scored two goals for Shawnee in the opening half. The first came with 28:58 left when he collected a rebound and scored off a shot by Carter Jensen. The next came at the 26:11 mark when he scored off a slick pass by Jackson Schaaf.
Less than two minutes later, Austin Wilker was fouled while attacking inside the goal box. Evan Vogel stepped in for the penalty kick and burnt Landon Hoehn to halve the deficit to 2-1.
The Roughriders tied the game with 15:40 left when Sam Young's deep pass got past the Indian secondary to the waiting foot of Parker Enoch, who won the one-on-one battle with Hoehn at the net.
The Indians reclaimed the lead less than one minute later as Tenwalde scored the first of his two goals with 14:57 to play.
But the Roughriders claimed the lead by the intermission. Luke Vondrell scored off a nice assist by Ethan Rose with 9:03 left. Then, with 8:16 remaining, Austin Wilker launched a shot from 40 yards out that slipped past Hoehn for the go-ahead goal.
It had been a relatively quiet second half for both teams until Tenwalde struck for his second goal with 17:44.
Spencer made a few diving saves in the half for St. Marys, finishing with 14 saves in net. The Roughriders also had a goal negated on a close offside call with five minutes to play.
"Jackson (Schaaf) is a heckuva baller," Ring said. "We blew our assignments in the beginning of the game on what we were supposed to do with him. I don't really know why. We practiced for three days and we didn't stick to our assignments. But we fixed it, and I thought Howie Spencer did a heckuva job shutting him down after that. ... And I was really proud of how Wilker and Evan played and of the bench scoring we got tonight."
The Roughriders return to league play on Monday, traveling to face Kenton.