Saturday, September 16th, 2017
Groundbreaking
Community shows up to support Tri Star
By Tom Stankard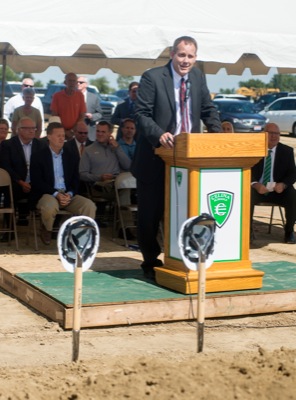 CELINA - A groundbreaking ceremony for the new $25 million Tri Star 2.0 facility was held on Friday afternoon.
Tri Star Director Tim Buschur, addressing over 100 audience members, credited community support for making the new vocational educational center a reality. Located on 15 acres of land across State Route 703 from Wright State University-Lake Campus, the center will span 100,000 square feet and house all 15 career programs under a single roof.
The compact's programs are currently spread across six locations in Auglaize and Mercer counties.
Mercer County Community Development Director Jared Ebbing, one of the speakers, said the center will play a crucial role in the area's economic future.
"This is going to have more of an impact on our region's economic development than any other project," he said. "This plants the seed for future development."
Construction is scheduled to be completed by June 1, 2019.
"Before you know it, we will have a state-of-the-art facility that is not just for students but can be used by adults and companies for training," Ebbing said. "I hope these lights stay on until late at night with something going on. The future is bright for Mercer and Auglaize counties because of this development."
Tri Star and school district officials have been planning the project for about two years. It started when an offhand joke was made at a county superintendents' meeting about moving the compact to one location. Talk quickly turned serious when the benefits of a single, consolidated site were discussed.
Plans drawn by Fanning-Howey Associates of Celina call for a two-story facility that will resemble a modern corporate headquarters, featuring mainly metal and glass facades.
Inside will be a student commons area and 19 classrooms and laboratories.
Buschur said the new location will simplify bus routes, provide space for new programs and allow for more collaboration with Lake Campus.
Programs like Tri Star are "absolutely vital to the career technical industry in West Central Ohio," Nidec Minster Corp. Manager of Employee Relations Brain Styer said.
"I am a believer that building state-of-the-art products needs state- of-the-art facilities and students being trained on state-of-the-art equipment, if we are going to compete in this area with the rest of the world," Styer said. "I am a firm believer in the importance of this facility."
Funding for the new complex comes via a 15-year 0.95 mill bond levy passed in August, 2016, which 75 percent of area voters approved, Buschur explained.
Former State Director of Vocational and Adult Education Darrell Parks pointed out the Tri Star 2.0 complex wouldn't be possible had the state not passed a law in 1970 making all city, local and exempted school districts develop and submit plans to provide a vocational school program.
Celina, Coldwater and St. Marys school districts collaborated and formed Tri Star March 31, 1983. Eventually Fort Recovery, Marion Local, Minster, New Bremen, New Knoxville and St. Henry also joined and make up the nine school districts of Tri Star today, he explained.
"The future is bright for students in both counties," Parks said.
Over the years, Buschur said Tri Star has "provided training for hundreds of students and adults and will continue to do for many years to come in this facility."