Saturday, September 16th, 2017
Flyers top Cats in clash of top-ranked teams
By Bruce Monnin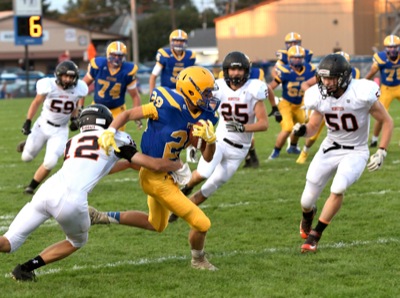 MARIA STEIN - It was a penalty strewn, defensive struggle between the top-ranked teams in Divisions VI and VII.
But in the end, it was the Marion Local Flyers who were able to keep second half drives alive in order to achieve a 21-7 victory over the Minster Wildcats at Booster Stadium.
The first quarter belonged to Minster, thanks to a 52-yard touchdown pass from Jared Huelsman to Austin Brown. Marion Local could get nothing going due to a stout Wildcat rushing defense and a streak where the Flyers turned the ball over on three consecutive plays from scrimmage.
Late in the first quarter, the Wildcats recovered a fumble at the Marion Local 29-yard line and hoped to increase their lead. That dream was crushed when Minster was penalized for 44 yards on its drive and was pushed back to its own 35-yard line.
The teams traded punts (9 total in the first half) and penalties (10 total for 111 yards) for the rest of the half until only two minutes remained. Starting from near midfield, Nathan Bruns completed a 29-yard pass to Nick Tangeman. Bruns followed by running for five yards and then found Tangeman again for a 15-yard touchdown to even the score 7-7 at half.
"That touchdown before half was big," Flyer coach Tim Goodwin said. "It was a tough game for both sides just trying to get in a rhythm with all the flags that were flying."
Marion Local still had the momentum early in the third quarter, as the first time the Flyers received the ball the they drove for the go-ahead score. After a 36-yard pass from Bruns to Derek Ruhenkamp, Henry Keller pounded into the end zone from two yards out to give Marion Local its first lead, 14-7.
Late in the period, Minster mounted a drive of its own, reaching the Flyer 26-yard line. Huelsman then scampered through the Marion Local defense for an apparent score, but a yellow flag on the field for holding negated the play, thus ending the Wildcats' last scoring threat of the evening.
"Probably the biggest play of the game was when they called holding on Huelsman's touchdown in the second half," added Goodwin.
Starting the fourth quarter, the Flyers used 10 plays to push Minster back to its 25-yard line. On fourth down, Bruns found Tyler Prenger for a 24-yard completion to the Wildcat one-yard line. Once again, Keller was called on to finish the drive and provide the final 21-7 score.
Quarterback Bruns not only threw for 228 yards, but surprised Minster by rushing for numerous first downs and 51 yards. Bruns' runs were instrumental in the Flyers converting five of seven third down conversions in the second half, while Marion Local's defense allowed the Wildcats only six first downs on the evening, and stopped Minster 11 out of 12 times on third down.
"We were struggling with our two back running game," added Goodwin. "I mean it just wasn't getting any traction. So we tried to spread them out a little bit and do something different. We haven't run him (Bruns) much this year, but you do what you have to do."
"They're just a better football team than we are right now," concluded Minster coach Geron Stokes. "Our effort was unreal. We competed like crazy. I thought it was awesome. We just have to compete on the big downs. They made big plays on big downs and we didn't."
The Flyers (4-0) travel to 1-2 Versailles next Friday. Minster (3-1) returns home to face 2-2 Fort Recovery.