Monday, September 25th, 2017
Redskins, Tigers claim titles
St. Henry's Naumann earns MAC's top player honors
By Gary R. Rasberry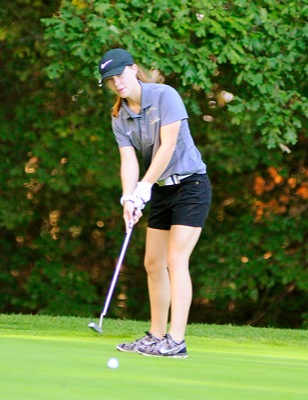 Teams playing in the Midwest Athletic Conference boys' and girls' golf tournaments on Saturday didn't need to warm up too much with the weather providing enough heat for all.
The heat didn't slow down the St. Henry boys at all as they collected the outright conference title with a blistering showing at the boys' tournament at the Mercer County Elks.
The Redskins, 9-0 in the regular season, had three gofers break 80 to finish the tournament with a 317, 34 strokes ahead of runner-up Minster (351) and 38 strokes ahead of third place St. John's (355).
Versailles was fourth with a 356 with Coldwater fifth with a 361. Parkway (367), New Knoxville (386), Fort Recovery (393), New Bremen (408) and Marion Local (409) completed the team standings.
"We had a lot of guys play well today," said St. Henry coach John Dorner, whose squad won their fifth MAC title in school history and first since splitting the honor with Versailles in 2015. "They took the challenge. A couple guys started the first few holes not too strong, yet they kept their composure and turned in good scores."
Leading the way for St. Henry was Kyle Naumann, who survived an early triple-bogey on the par-4 fourth hole to finish with a 2-over 74 to take match medalist and collect enough tournament points to earn MAC Boys' Golfer of the Year honors based on points earned during league matches and the tournament.
"I triple-bogeyed (the fourth) and kept on going," said Naumann. "I made that putt for triple and just said 'Let it go. Just keep going.'
"I think this was everything we were going for this summer, except for moving in (the postseason)."
The Redskins went 1-2-3 on the tournament leaderboard. Jack Romer was three back of Naumann with a 77 and Rylee Deitsch was the only other golfer in the tournament to break 80 with a 79 for third. Coldwater's Adam Fisher and Versailles Connor Van Skyock tied for fourth with matching 83s while three golfers - Fort Recovery's Harrison Kaup, St. John's Grant Csukker and Minster's Grant Voisard - finished tied for sixth with 85. Coldwater's Trey Wolters, Parkway's Jack Wehe and Minster's Grant Koenig each shot 86 to tie for ninth.
Joining Naumann on the 12-player All-MAC first team were Van Skyock, Kaup, St. John's Adam Gerker, Fisher, Csukker, Deitsch, Romer, Parkway's Mason Baxter, Voisard, Wolters and St. Henry's Ryan Grieshop.
Boys' sectional play begins this week. Coldwater travels to Country Acres near Kalida for the Division II sectional on Thursday while the rest of the teams except for Versailles travel to Colonial Golf Club for the Division III sectional on Thursday. Versailles plays in the Southwest District Division II sectional on Wednesday at Pipestone Golf Course.
Meanwhile, while the boys were at the Elks, the ladies were at Stillwater Valley outside Versailles looking to see if anyone could tame the host Tigers.
As it turned out, the only taming going on was Versailles' taming their home course in shooting a 365 to claim the tournament title and taking the outright title. St. Henry, whose only league loss came to Versailles, finished second with a 397 as the only other team to break 400. New Bremen (416), Parkway (420), Coldwater (458), Fort Recovery (493), Versailles (516) and St. John's (525) rounded out the team scoring with Minster not fielding enough golfers for a team score.
Versailles' Jorja Pothast was match medalist by breaking 90 with an 87. Teammates Morgan Heitkamp (90) and Lauren Durham (93) were second and third followed by St. Henry's Ellen Naumann and Karlee Staugler (94 each). Parkway's Haylee Stukey and Versailles' Morgan Barlage (95), New Bremen's Amy Balster (97) and Parkway's Mecaylah Hesse and St. Henry's Allyson Hemmelgarn (98) completed the top 10.
Durham's third-place showing allowed her to secure Girls' Golfer of the Year accolades with Ellen Naumann just missing out at a family sweep of the honors. Rounding out the top 12 earning first team All-MAC honors were Pothast, Balster, Stukey, Hemmelgarn, Staugler, Barlage, Fort Recovery's Kristen Keller and New Bremen's Sarah Parker.
All of the girls' MAC teams except for Versailles will be at Celina Lynx on Tuesday for Division II sectional play. Versailles will host the Southwest District sectional at Stillwater Valley on Wednesday.

All-MAC Golf Teams:
2017 All-Midwest Athletic Conference Boys' and Girls' Golf Teams based upon points accumulated from conference dual matches and the conference tournament.

BOYS
First Team
Kyle Naumann (St. Henry - Golfer of the Year), Connor VanSkyock (Versailles), Harrison Kaup (Fort Recovery), Adam Gerker (St. John's), Andrew Fisher (Coldwater), Grant Csukker (St. John's), Rylee Deitsch (St. Henry), Jack Romer (St. Henry), Mason Baxter (Parkway), Trey Wolters (Coldwater), Ryan Grieshop (St. Henry).
Second Team
Adam Knapke (Minster), Jack Wehe (Parkway), Clayton Agler (Parkway), Logan Lazier (Minster), Grant Koenig (Minster), Ray Newton (New Knoxville), Reed Koesters (St. Henry), Joseph Magoto (Minster).
Honorable Mention
Jared Lucas (St. John's), Austin Pleiman (Versailles), Cole Hemmelgarn (New Bremen), P.J. Platfoot (Versailles), Grant Knapke (Fort Recovery), Will Eversole (Versailles), Nathan Kaiser (Versailles), Robert Buescher (St. John's).

GIRLS
First Team
Lauren Durham (Versailles - Golfer of the Year), Ellen Naumann (St. Henry), Jorja Pothast (Versailles), Amy Balster (New Bremen), Haylee Stukey (Parkway), Allyson Hemmelgarn (St. Henry), Karlee Staugler (St. Henry), Morgan Barlage (Versailles), Kristen Keller (Fort Recovery), Sarah Parker (New Bremen).
Second Team
Mecaylah Hesse (Parkway), Caylie Hall (New Bremen), Morgan Heitkamp (Versailles), Cassidy Schafer (St. John's), Kaycie Wissman (Minster), Anna Groff (Versailles), Emma Eckstein (Coldwater), Lauren Henderson (Parkway), Elizabeth Rockwell (St. Henry).
Honorable Mention
Paige Phillips (Minster), Payton Kunk (Coldwater), Maddie Smith (Marion Local), Hannah Koenig (MInster), Autumn Ellis (Parkway), Claire Clune (St. Henry), Lexi Wright (Coldwater), Cassie Stachler (New Bremen), Marah Moeller (Marion Local).

Correction:
Story has been edited to reflect this was St. Henry boys fifth MAC title.