Monday, September 25th, 2017
Heat doesn't beat marathoners
By Colin Foster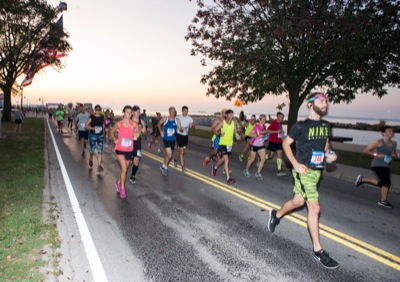 CELINA - Jason Barhorst beat the heat - and everyone else - on Saturday at the Grand Lake Marathon.
The Sidney native captured the marathon title for the second straight year, completing the 26.2-mile race in a time of 2 hours, 56 minutes and 37.3 seconds.
He planned to celebrate the only way possible on a hot and humid day.
"I'm just going to drink a lot of water," Barhorst said.
The 30-year-old Barhorst became the second back-to-back winner of the event. Justin Gillette had won consecutive titles in the first two years of the race.
It was the 28th marathon completed by Barhorst, who has on his resume the Boston Marathon, the Columbus Flying Pig and the Jacksonville Marathon. He has also completed the U.S. Track and Field 50-mile road championships.
"It was pretty good for the first half, but once the sun came up around mile 16, it got you," said Barhorst, who last year posted a winning time of 2:56:26.3. "Winning it was the goal. I had a time goal, too, that was much faster than I ran, but I kind of scrapped that at the beginning, which was a smart decision, just knowing I wouldn't be able to hold it. I ran about the same time I did last year. Under these conditions, I was pretty pleased."
All competitors battled the heat during the fourth annual running of the event - evident by many of their expressions as they rolled through the finish chute.
"It's a tough day," race director Ryan King said. "You've definitely got to be cautious. There were definitely some slower times, for sure. Today's about getting it done and staying on two feet."
Zachary Siefker, Elida, finished runner-up in the marathon with a time 2:58:00.7 and Steven Wenning, Coldwater, took bronze (2:59:51.2).
The female champion Andrea Smith, 26, Ottawa, completed the trek in a time of 3:21:57.5.
The event was Smith's first marathon win in 10 tries. She has competed in the Grand Lake event four straight years, twice running the full marathon and once the half.
"I had just ran a marathon two weeks ago, so I was just going to try and take it easy," she said, "but I felt good, so I went."
Amy Marcotte, Mason, placed second in the female division with a time of 3:39:34.7, and Chistine Bathgate, Tipp City, was third (4:02:46.8).
The marathon and half marathon met on State Route 703 on the outskirts of St. Marys, and as expected, U.S. Olympian Jared Ward separated himself from the pack, winning the half in 1:10:51.
Ward stuck around to greet fans and other runners after the race. He also offered some nice words about his visit to the area.
"Everyone around here is so nice," Ward said. "We need more nice people in the city. But this has been a fun trip. Thanks for hosting me."
Former Celina standout Roman Mitchell, 19, was runner-up in the half marathon with a time of 1:20:49.6. Jeremy Wysocki, Miamisburg, finished third (1:22:11.3).
The women's half marathon was dominated by local runners. Jill Kanney, Coldwater, 22, won with a time of 1:28:23.6. Ashley Lefeld, Coldwater, 32, took runner-up (1:38:40.9) and Kimber Prater, St. Marys, 29, was third (1:40:16.8).
This marked the second year in which King and Can't Stop Running Co. organized the event. Participation was up from last year and the operation ran smoothly, King said.
"I'm going to guess we were in the neighborhood of 1,100 or 1,200 (participants) today, which is up from last year," King said. "Our goal is to get this race up to a 3,000-person event. I do have to admit that most races in the Midwest region this year have been down, and really all over the country. So for a race to be up is really unheard of.
"Everything seemed to be running a lot smoother this year. The only challenge was the heat."