Thursday, September 28th, 2017
Car-semi crash claims area driver
Two killed in county accidents
By Tom Stankard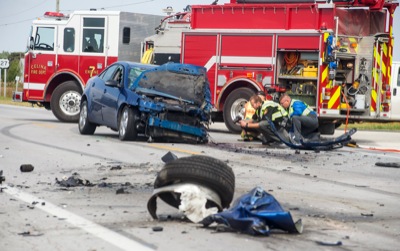 CELINA - A Van Wert woman was pronounced dead at the scene of an accident on Wednesday after her car collided with a semitrailer on U.S. 127 near Howick Road north of Celina.
This is the fifth traffic fatality this year in Mercer County.
Georgette Zinn, 56, was driving her 2007 Pontiac northbound on U.S. 127 at about 1:30 p.m., when her vehicle drifted left of center into the path of a southbound 2007 Freightliner driven by Mark Cook, 57, Convoy, according to a Mercer County Sheriff's Office news release.
The sheriff's office traffic crash reconstruction team was called to the scene to investigate.
Deputies were assisted by members of the Celina Fire Department, Celina squad members and members of the Mercer County Emergency Response Volunteers for traffic control.
Further details were not available at press time today.