Thursday, September 28th, 2017
Bicyclist dies after colliding with car
Two killed in county accidents
By Ed Gebert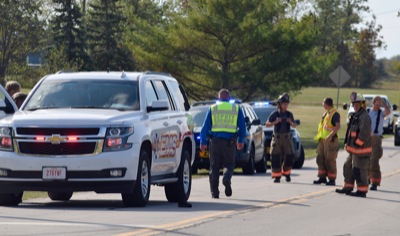 CELINA - A bicyclist was killed after colliding with a car as he crossed St. Anthony Road on the Celina-Coldwater Bike Path on Wednesday afternoon.
Nicholas J. Hemmelgarn, 67, Coldwater, was southbound on the bike path at about 4 p.m., when he reportedly failed to yield to traffic on St. Anthony Road.
He was struck by a westbound 2001 Ford sedan driven by Wallace J. McGough, 32, Celina, according to a news release from the Mercer County Sheriff's Office. McGough reportedly was not injured.
Hemmelgarn reportedly was taken from the scene by members of the Coldwater Emergency Medical Services to Mercer County Community Hospital in Coldwater, where he was pronounced dead.
St. Anthony Road was closed for about three hours while the sheriff's office's traffic crash reconstruction team investigated.
Deputies were assisted by members of the Coldwater EMS, Coldwater Fire Department and Mercer County Emergency Response Volunteers, who assisted with traffic control.