Friday, September 29th, 2017
An Instant Classic
New Bremen defeats Coldwater in five sets, hands Cavaliers first loss of season
By Gary R. Rasberry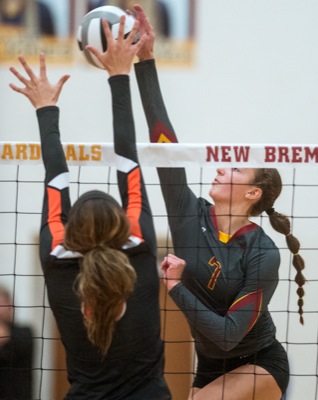 NEW BREMEN - The volleyball match between Coldwater and New Bremen certainly lived up to the precursory hype.
The two number one teams fought back and forth before New Bremen used its last burst of nitro to win the fifth set and take a 25-20, 23-25, 25-23, 19-25, 15-11 win at Cardinal Gymnasium in Midwest Athletic Conference play.
The Cavalier loss (16-1) creates a four-way tie for first place in the MAC with New Bremen (12-1), St. Henry and Versailles all joining Coldwater with 5-1 conference marks.
"It's awesome. This was what girls dream about," New Bremen coach Diana Kramer said about the atmosphere in a packed Cardinal Gymnasium. "That's what people want to be a part of and they get to be part of it. It only gets sweeter.
"Coldwater is one of the most technically sound teams in the state. For us to find a way is just unbelievable."
"That was a great game, a great match," Coldwater coach Nikki Etzler said. "It was a battle of serve-receive and being aggressive. I think we have a lot to work on, which is why I love playing these matches because the MAC is so tough and it's awesome to play with the great crowd and great support."
Neither team could claim easy set victories with six points the biggest margin on the night. The match had a combined 21 ties and 11 lead changes, with six lead changes coming in the second set.
The second set was key for the Cavaliers, whose first set was their first set loss of the season. Coldwater led 6-2 early before the Cardinals behind University of Michigan-bound Paige Jones started pulling their way back into contention. From the 11-11 mark onward, neither team could get more than two points ahead of each other. The Cardinals were up 23-22 when Tasha Kahlig tallied a kill to tie the match and allow teammate Taylor Siefring to serve. Siefring gave Coldwater set point with a kill and then served up an ace to level the match at one set each.
"I liked how we were stressed, so as a coaching staff, we know how much more to push the girls," Etzler said.
The third set was another back-and-forth battle. New Bremen took the lead at 5-4 and shrugged off every Cavalier comeback chance, with Jones tallying the set-ending kill.
In the fourth set, Coldwater got an early burst of points from the serving of Olivia Harlamert to go up 8-5. Later, Kahlig served up another run of points with Harlamert getting a kill and Lauren Gilliland a block. A block by Allison Sudhoff put Coldwater ahead 17-14 as New Bremen could only get as close as four points down the stretch as the Cavaliers forced a fifth set.
"I reminded them of last year," said Kramer, referring to the Cardinals rallying from down 2-1 to win in five sets at Coldwater. "We came back and won the fourth set after losing (the third set 25-11). Every single point matters. That's the moral of the story."
New Bremen won the chance to serve first, but Gilliland had back-to-back blocks to put Coldwater in front 2-0. After scoring a point and getting back the serve, New Bremen took the lead on three straight points from Taylor Paul thanks to kills from Kremer, Julia Goettemoeller and Jones.
Coldwater tied the set at 4-4 and later had ties at 7-, 8-, and 9-all. The Cavaliers had a chance to break the tie and take its first lead since 2-1, but the serve went long, allowing the Cardinals to serve with Jones at the line. A Goettemoeller kill broke the tie and Etzler called her first timeout. Jones followed with a kill of her own to make it 11-9, and the Cavaliers used their final timeout. Elena Knapke stopped the run with a quick-set over the net for a point to make it 12-10. Goettemoeller responded with a kill to put the Cardinals within two points of winning the match. An ace by Macy Puthoff made it match point, but Siefring got a kill to keep the match alive. Jones quickly ended the match on the next service with her 44th kill of the night to send the Cardinal fans into a frenzy.
"We played very good defense," Kramer said. "Our blockers are where it starts. They were on fire tonight and that leads to playing better back-row defense. We just went after everything. The ball does not hit the floor, that's the mentality we play with."
While Jones had the blistering stats, the play of Kremer (nine kills, 15 digs) and Goettmoeller (10 kills) made coach Kramer very happy.
"Someone made a comment to me that we weren't a very good team, just the Paige Jones team," Kramer said. "I hope they watch this game because Rachel played unbelievable. Blake (Snider) played the best defensive game of her life (14 digs). Julia had double digit kills. We're a team with an all-star."
Etzler was proud of her team's play.
"We're excited in what we did in parts of the match, but we know we can get better," Etzler said.
Kahlig had a stellar night for Coldwater with 22 kills. Gilliland had 14 kills and 11 blocks. Harlamert had 20 digs and three aces and Knapke dished out 41 assists.
The Cardinals play in the Van Wert Invitational on Saturday. Coldwater is off until next Thursday when the Cavaliers travel to Fort Site Fieldhouse to face Fort Recovery.