Friday, September 29th, 2017
Riders top Dogs on late PK goal
By Colin Foster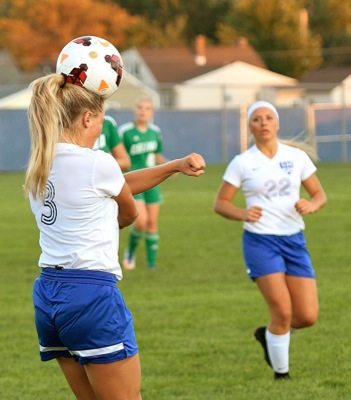 ST. MARYS - Kennedy Henry made diving saves. On one occasion, the Celina keeper fell over backward to keep the ball out of the net. Henry and the defense did everything they could to keep St. Marys off the scoreboard on Thursday night.
But one penalty kick by St. Marys' Josie Bowman was unstoppable.
Bowman's PK goal late in the second half lifted the Roughriders to a 1-0 victory over the Bulldogs in the Grand Lake Derby in St. Marys.
"Our defense played well," Celina coach Cal Freeman said. "We had a lot of breakdowns, and obviously we didn't put it together. We gave up a penalty in the box and they came up with a goal. Give credit to (Bowman). There's always pressure on them. ... We should have came out of it 0-0, but I don't take anything away from St. Marys. They played hard. They came at us. I'm just really disappointed with how we performed tonight."
The Roughriders were on the attack early and often, outshooting Celina 14-4 in the game.
Bowman, Alli Schlosser, Emma White, Madison Rust and Jacqlyn Mines all had shots turned away by Henry in the opening half.
Sydney Cisco had a breakaway stopped by the Celina defense early in the second half and Meredith McMurray later had a good look turned away by Henry. Henry later fell over backward to haul in a deep shot by a Roughrider.
But soon after, a penalty was called in the box. Bowman nailed the PK with 12:45 remaining in the second half.
"It's the first win (over Celina) in about nine or 10 years," St. Marys coach Seth Hertenstein said. "Our record for the last (several years) is 1-9-3. It feels good to get this win tonight. These seniors have never beaten these guys, so hopefully this is a new tradition that will continue.
"The last couple of games, we've struggled to get quality shots on goal," he added. "I'm not sure how many of them were real quality tonight, but we got a few in there and we got a lot of balls into the attack, so a PK is fine with me. It would have been nicer to have a goal on an open play, but I'll take it."
Henry made 11 saves. Aliya Patterson made four for St. Marys.
St. Marys improved to 5-5-1 and Celina fell to 3-7-2.
The Roughriders host Anna on Saturday while Celina is off until Tuesday when the Bulldogs host Van Wert.