Saturday, October 14th, 2017
Fort organizations plan One of a Kind Auction
By Sydney Albert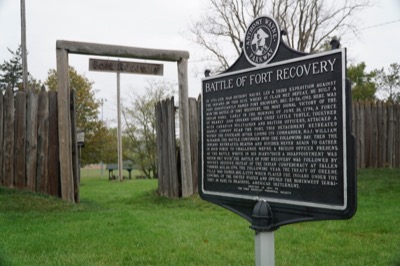 FORT RECOVERY - The Fort Recovery Historical Society and Project Recovery will host the One of a Kind Auction from 5-9 p.m Sunday in the Fort Recovery Elementary/Middle School auditeria.
Among the 43 items that will be sold during the live auction are Ohio State University football and basketball tickets and University of Dayton Flyers tickets. A silent auction with 42 available items will be held as well; up for grabs are VIP parking spots at Fort Recovery High School basketball games, gift certificates and handcrafted items.
Other raffles and games are planned to give those in attendance a chance to walk away with cash or other prizes. There will be a 50/50 raffle, a gun raffle and a raffle for a set of 14 karat gold earrings set with 24 round diamonds.
A buffet of heavy appetizers and desserts prepared by Pi Sigma Epsilon-Iota Xi will be available in keeping with the night's theme, "Venetian Adventure."
Fort Recovery Museum Director Nancy Knapke said auction proceeds, which usually range between $25,000-30,000, will be shared between the FRHS and Project Recovery. The money helps pay for upkeep of the visitors center, Pioneer Cemetery, the Wabash plot on Route 49 and Indian Point, in addition to educational programs and community planning, including murals depicting important points of Fort Recovery's history.