Saturday, October 14th, 2017
Roughriders run past Bulldogs
Win give St. Marys share of WBL title
By Gary R. Rasberry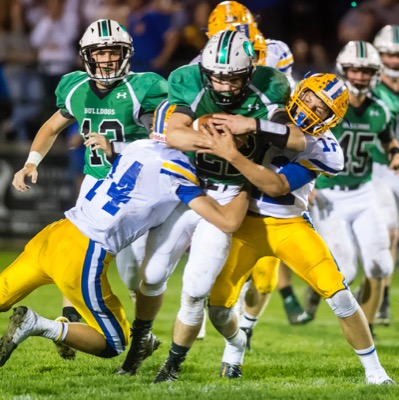 CELINA - Opponents of St. Marys know that the Roughriders are going to run the ball.
It's just a matter of stopping them.
Celina experienced the Roughrider attack in living color on Homecoming night at Celina Stadium as St. Marys scored on its first three possessions of the game and then fended off a second-half Bulldog charge to win the Battle of Grand Lake 35-14.
The win gives the Roughriders (7-1, 7-0) at least a share of the Western Buckeye League title with games with Defiance and at Wapakoneta remaining on the schedule. The loss drops the Bulldogs to 5-3 (4-3 WBL).
"We're on the right track," St. Marys coach Doug Frye said. "It was a win, but I'm not really pleased yet.We have to play better football the next two weeks."
St. Marys wasted little time in putting up the first score of the game. After a 15-yard run by Brandon Fowler to start the game, Sean Perry carried the ball three times for 52 yards, the final 19 coming on a touchdown run just 94 seconds into the game.
Celina looked ready to answer St. Marys' score thanks to a great kickoff return to midfield, but the Roughriders held the Bulldogs to three yards and forced a punt. The Roughriders took their time on the next possession, taking nearly seven minutes off the clock with a steady diet of Perry and Ty Schlosser to get the Riders to the Celina 1-yard line, where Colin Clements called for the quarterback sneak and snuck the ball in for the score.
After another Celina three-and-out, St. Marys pounded the ground for another 47 yards on a scoring drive. Again Clements called his own number on a two-yard score to make it 21-0 with eight minutes left on the clock before half.
"You put yourself in a bad spot when you go down 21-0 in the first half," Celina coach Brennen Bader said. "It's a tough spot to be in. I wished we started the first half better."
Frye was pleased to see his defense shut down a potent Celina offense that came in averaging 34.3 points per game.
"I can't say enough about our defensive kids," Frye said. "We started the season giving up 39 points to Sidney and struggling against Van Wert. We moved a couple kids and our coaches and players have done a great job on defense."
Celina went on offense to start the second half and started moving the ball as Brett Schwieterman, who was 3-of-9 passing in the first half, started connecting with Dillon Hoying. The pair teammed up three times on a drive that got as far as the Roughrider 5, but St. Marys' defense pushed back and the drive ended on the 20.
The next Bulldog drive proved successful as Celina took over four minutes off the clock and this time scored when Schwieterman found Kole Murlin for a six-yard score with just 68 seconds left in the third quarter.
St. Marys had to punt on its next possession with Celina getting great field position at the Roughrider 44. Kyle Zizleman got the Bulldogs to within a touchdown with 9:52 to go in regulation with a 20-yard score to make it 21-14.
"I was proud how we responded in the second half," Bader said. "They could have easily caved in and didn't. I would have liked to see us start better out the game and deliver some punches early on the offensive line.
The Roughriders quickly ended Celina fans' hope for a comeback. Perry broke free for a 60-yard run to get St. Marys to the Celina 7, where Schlosser punched in the final yards less than a minute after the Celina score to push the Roughrider lead back to 14. Clements later added his third touchdown of the evening on a 1-yard sneak with just over two minutes left to play.
"I really didn't say much of anything," Frye said of what he said to his team regarding Celina's comeback. "They're a good group of intelligent young men. They knew it was time to take it to another level."
"We got back in the game at 21-14," Bader said. "We just needed one more stop. Unfortunately, they got that big run on us and we couldn't quite get it."
Perry finished with a career-high 213 yards on 23 carries for the Roughriders. Schlosser added 94 and Shannon Fowler finished with 40.
"This is a very difficult place to play over the years," Frye said. "I thought Celina kids played with a lot of emotion, but I thought our kids came out with a lot of emotion."
The Celina running game, which entered the game with the third-best average of 255.9 yards per game coming in, was held to 106 yards. Schwieterman was 16-of-28 for 175 yards with Hoying making eight catches for 107 yards. Zizleman had 61 yards rushing.
While St. Marys is at home next week against Defiance, Celina is on the road for the final two games of the season. Next Friday, the Bulldogs will be at Eggerss Stadium in Van Wert to face the Cougars.